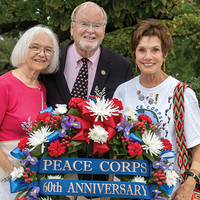 A wreath-laying ceremony at the John F. Kennedy Memorial at Arlington National Cemetery on September 22, 2021
Photography by Eli Wittum
Pictured: Honoring a legacy: Three Returned Peace Corps Volunteers who served in Colombia. From left, they are Museum of the Peace Corps Experience co-founder Patricia Wand (1963–65), former Congressman Sam Farr (1964–66), and journalist Maureen Orth (1964–66).
On the afternoon of September 22, Northern Virginia Returned Peace Corps Volunteers hosted a wreath-laying ceremony at the John F. Kennedy Memorial at Arlington National Cemetery. It was an in-person event paying tribute to the idea and ideals of the Peace Corps, and the president who ensured they took flight.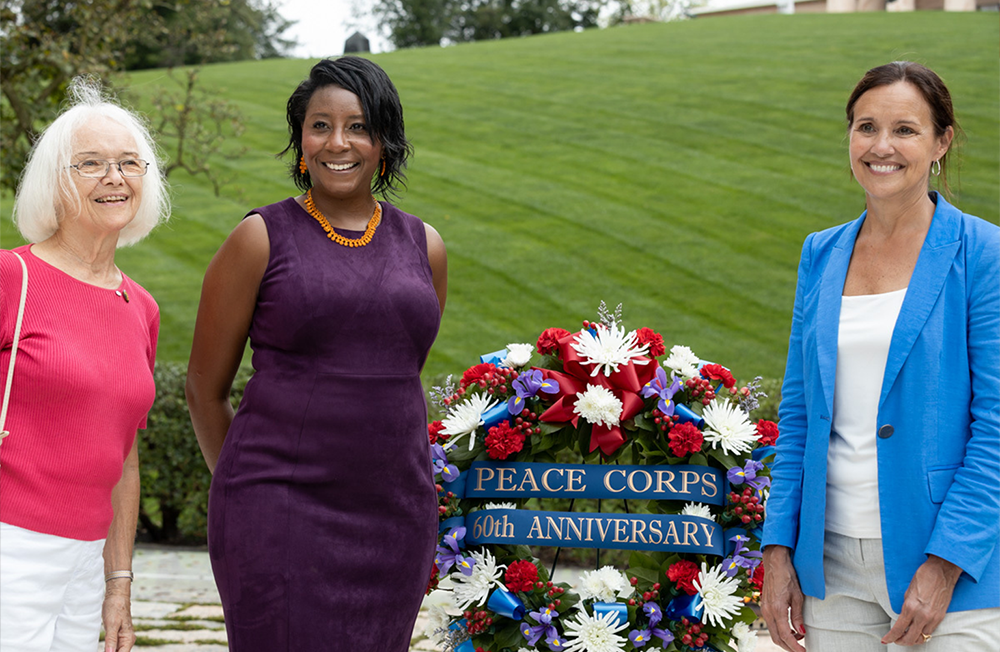 From left: Pat Wand, Clintandra Thompson, and Carol Spahn. Photo by Eli Wittum
Offering remarks were Acting Peace Corps Director Carol Spahn, Rep. John Garamendi, former Congressman Sam Farr, NPCA President Glenn Blumhorst, and Adopt a Black Peace Corps Volunteer founder Clintandra Thompson.
They spoke on the legacy of the Peace Corps and honored President Kennedy. Following speeches, attendees walked together to Kennedy's gravesite to place a wreath and flowers.

Flowers and cake. Photography by Eli Wittum
This story appears in the 60th-anniversary edition of WorldView magazine.
Story updated January 17, 2022.
---