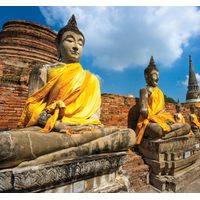 Both National Peace Corps Association (NPCA) and Fulbright Association (FA) offer travel programs for their respective communities that encompass service, learning, citizen diplomacy, and traditional sight-seeing. Now the two like-minded organizations are opening their experiential trips to the two communities of kindred spirits.
The first opportunity for Fulbright and Peace Corps alums to travel together is FA's Insight Tour to Peru (Oct. 13-21, 2016) followed by NPCA's Next Step Travel Tour to Thailand (Nov. 20-Dec. 3, 2016). The tours will engage travelers in immersive, service-oriented activities reminiscent of their original experiences abroad.
On Fulbright Association's Insight Tour to Peru, RPCVs will be invited to join Fulbright Alumni to see the sights and experience the culture and history through the eyes and voices of Peruvians. During this culturally immersive trip, travelers will enjoy enlightening political and economic discussions, including dinner with Fulbrighter and former President of Peru Alejandro Toledo, who was first encouraged to study in the U.S. by Peace Corps Volunteers.
In October, the Thailand - Next Step Travel tour includes the chance to teach English and math in a primary school, participate in the Loi Krathong festival, discuss contemporary Buddhism with practicing monks, and to learn about the lives of hill tribes in a visit to the north.
"Collaborating with NPCA on the global Service Corps program is a natural fit as both organizations champion a lifelong commitment to cultural exploration and citizen diplomacy," says Jennifer Gennaro Oxley, executive director of Fulbright Association. "Uniting the communities of these two programs will provide new opportunities and a unified approach to service both in the U.S. and abroad. We are thankful for this collaboration and look forward to many great adventures together."
NPCA President and CEO Glenn Blumhorst agrees. "The Fulbright and Peace Corps communities share a mission of promoting peace and understanding between the U.S. and the world. Peace Corps and Fulbright alumni seek opportunities to experience new cultures with inquisitiveness, respect and meaningful interaction. Our travel programs reflect our shared values and we are confident this collaboration will enrich our travel programs."
Other NPCA Next Step Travel destinations include Cuba, Dominican Republic and Guatemala. Learn more here.
---