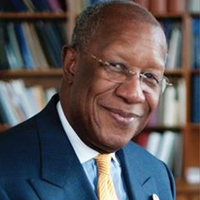 Part of the discussion on "Building a Community of Black RPCVs: Recruitment Challenges and Opportunities"
Photo courtesy Howard Dodson
By Howard Dodson
Peace Corps Volunteer in Ecuador 1964–67 | Director, Howard University Libraries
I wanted to join the Peace Corps the day Kennedy announced it was going to happen. I was a junior in undergraduate school — first on both sides of my family on the verge of graduating from college. I took the idea home to my parents. My father's response was: "Let me see if I understand this. You're going to finish a college degree, go away overseas for $125 a month for two years. What?" I got talked out of it the first time. The second time I decided that's what I was going to do.
I had read The Ugly American by Lederer and Burdick, about foreign service people working overseas who were, frankly, embarrassing representations of what Americans should be. I knew I could do a better job of representing America than that.
I was offered a job teaching, and I coached a basketball team. I was the only African American in my training group — and one of about three with Peace Corps in Ecuador. But I managed to travel around South America, getting to know people of African descent. It led to my professional training and study of the African diaspora in the world. I hope that there will be opportunities for more African Americans to have meaningful, substantive experiences with peoples of African descent and others around the world, especially in this time when America's reputation has been somewhat tarnished by our public presence in other parts of the world.
Diversity in the Peace Corps: We haven't moved the needle very far, both at the level of staffing and Volunteers. So what is wrong with our approach? We continue to do the same things.
Diversity in the Peace Corps: It's over 50 years that we've been in this conversation. We haven't moved the needle very far, both at the level of staffing and Volunteers. So what is wrong with our approach? We continue to do the same things. I know, from my period as a Volunteer, recruiting officer, director of minority recruitment, and training officer: What we call structural racism was present in Peace Corps from day one. The solution was find three or four more people so we don't look bad. That doesn't solve the problem. Because of the transient nature of people's engagement with Peace Corps as an institution, you spend two years and what you've gained is gone; whatever was working has not been re-created in the structure.
There were assumptions about who made good Volunteers, what you look for — and they don't have anything to do with Black people. The diversity and inclusion framework is at the center of public conversations now. I think it gets in the way of finding real answers, because nine times out of ten they're looking for racial representation rather than a systemic problem solver. Simply putting some Black faces in places does not change any damn thing.
These remarks were delivered on September 14, 2021, as part of "Strategies for Increasing African American Inclusion in the Peace Corps and International Careers," a series of conversations hosted by the Constituency for Africa and sponsored by National Peace Corps Association. They appear in the 60th-anniversary edition of WorldView magazine.
---
Howard Dodson is the director emeritus of the Schomburg Center for Research in Black Culture, which he led for 27 years.
---