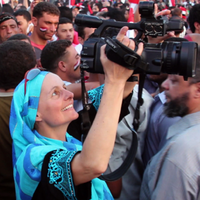 Author: Braeden Waddell
Karin Muller, a RPCV who served in The Philippines from 1987-1989, describes her life and career after service as "a Peace Corps Volunteer's dream job."

Upon returning from her Peace Corps Service, Karin found her position at a management consulting firm mundane; she was miserable. She craved the world from which she had returned, one of adventure and importance, with the intense meaning and purpose that she learned while serving in the Peace Corps.
"The Peace Corps had shown me my true calling: to promote empathy and understanding between cultures and to give a voice to those who cannot speak for themselves."
Karin quit her job, and for the past 3 decades has been traveling the world, producing educational and informative television series and documentaries for National Geographic and PBS. "I travel alone" Karin says, "learn the language, and spend months living with Bedouin nomads, Maasai warriors, and Mongolian wrestlers."
"My goal is to capture a side of our human planet that few tourists will ever see: Egypt's garbage collectors, Japan's bull sumo, the butcher-surgeon in a Sudanese refugee camp, or a vicuna roundup high in the Andean mountains."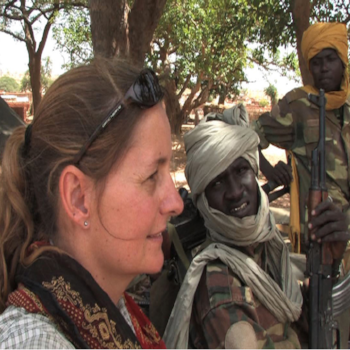 ---
She has posted several stories from her documentaries to her YouTube channel, Our Human Planet, and founded a nonprofit organization, Take 2 Videos, as a tool to allow students to use this same footage to create their own PSAs and mini-docs.
Karin's goal is to create content that engages audiences and serves both as an educational resource for teachers and to continue promoting the Peace Corps values of empathy, compassion, and world peace. Her work sheds light on the often overlooked stories of people and communities across the globe, sharing the intricacies of different cultures and promoting the Peace Corps Third goal long after her service.
When asked about her experiences today, she simply replies:
"I am the luckiest person I know."
Author, filmmaker, and photographer Karin Muller has spent the past thirty years traveling alone to remote communities and conflict zones to bring home stories about people and places that few Westerners will ever see. Karin has written three highly-acclaimed books and produced international television series on the Middle East, Cuba, Vietnam, the Andes, North Africa, China, and Japan for PBS and National Geographic.
Photo 1: Karin interviewing militants in Sudan; Photo 2: Karin celebrating in a local festival; Photo 3: Karin with Gisuke.
---
Edited By: Braeden Waddell
Braeden Waddell is a Journalism major entering his second year at American University. Although not a RPCV (yet), he participated in a year-long service experience in Argentina after leaving high school. He currently works as a Communications Intern at NPCA.
---