Making direct connections with other nearby National Peace Corps affiliate groups. Sustaining the group, yet being ready to expand activities when the right volunteer leader comes along. Those two practices have helped ensure the stability of the Kansas City Area Peace Corps Association, our featured NPCA group for the month of October.
Name of Group: Kansas City Area Peace Corps Association (KCAPCA)
Three words that best describe your group:
Friendly, service-minded, supportive
What makes your group successful?
The group is very laid-back and welcoming of others. It is very much a community of friends who enjoy seeing each other on a monthly basis. We have a strong and active Board that meets monthly to orchestrate opportunities for our membership to socialize, network, give back to the community, share their Peace Corps experience, promote the Peace Corps and advocate for a bigger and better Peace Corps.
What geographic area does your group cover?
Our group covers the Greater Kansas City Area, which includes suburbs in Kansas and Missouri. We also are the Affiliate Group for Lawrence, KS, which has a campus-based recruiter at the University of Kansas.
Give a brief summary of your group's history.
The Kansas City group was formed sometime prior to 1990, when a recruiting office was located in Kansas City. After 1990, the Kansas City Area Peace Corps Association became an affiliate member group of the NPCA (then called the National Council of RPCVs). From the beginning, the group was interested in community service and social activities, such as potluck parties. Over the past few years, the group has added Third Goal, recruitment, advocacy- related and has even helped raise funds for an educational project of a currently serving PCV from Kansas City.
What is the best thing your group has done in the past year?
The best thing our group has done in the past year has been forming closer ties with the three other Missouri Affiliate groups. In the summer of 2015, the boards of the three largest MO groups, the Kansas City Area Peace Corps Association, the Central Missouri RPCVs, and the St. Louis Peace Corps Association met for a Leadership Summit to discuss how to work more closely together. The Memorial Day Weekend Ozarks Campout was the first joint activity and there will be a Fall Camping Weekend on the Ozarks later this month for all statewide RPCV groups. Not only is it fun to get together, but we support each other's activities. For example, members of the St. Louis and KC groups attended the Central MO RPCV's Third Goal Film Festival last April, and the Central MO RPCV group provides funds to support an educational project of one of our PCV members serving in Thailand.
What is a key skill/activity/resource that you can offer to other NPCA Affiliate Groups?
We can offer up some advice. Do not worry if you need to start small with only a few events/activities- you can work your way up. Do not try to do too much in a short period. Our group historically had not had an advocacy program, as there was never enough time or energy. When the right person joined the board a year ago, we were then able to incorporate advocacy into our activities, starting with local, district meetings. Our Advocacy Coordinator kept the group informed and up to date on issues through Facebook posts and newsletter contributions. This past September, three Board members participated in the Advocacy Day on the Hill. It was a major milestone to have so much representation after years of the group not being politically active.
Are there any key challenges or needs that your group faces and could use some help?
We could use support in enticing more leaders to help run the group and to widen our number of active group members. We also would like to support a Speaker's Bureau, so we can match more members with Third Goal presentation opportunities.
Are there any monthly/annual activities that you conduct?
Our main monthly social activities are First Monday Happy Hour always at the same spot, McCoy's Pub in a central location in Kansas City, and Third Thursday Dinner, where we meet at a different ethnic restaurant each month.
Our signature Third Goal event is our annual Open House, which is open to the public. Every spring we meet at the Writer's Place House for food and drinks, world music, country displays, socializing and various Third Goal presentations about life as a Peace Corps Volunteers in developing countries.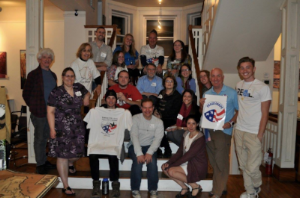 Every quarter we participate in community service activities, such as with the Johnson County Christmas Bureau, Ronald McDonald House, Harvester Food Bank, Habitat for Humanity and After the Harvest
And two or three times a year there is a potluck party for RPCVs, which includes Peace Corps recruiters, and often sends-offs for departing KCAPCA members who will be beginning their Peace Corps service.
Our group also participates in recruitment festivals and events in partnership with our KS, MO, and university based Peace Corps Recruiters.
Why is your group affiliated with the National Peace Corps Association?
Even though our group has been affiliated with NPCA since 1990, the current NPCA emphasis on helping Affiliate Groups thrive has helped shape the direction and goals of the currently serving KCAPCA Board. The NPCA has provided much leadership support and encouragement to our group leadership on an individual basis as well as skill and network building opportunities through the Purpose-Driven Group webinars and Annual Affiliate Group meetings. Not only is our group capacity supported, but also we agree strongly with NPCA's emphasis on enlarging and improving the Peace Corps and making a difference at home and abroad through community-based funds and development initiatives.
Please share (briefly) the one thing RPCVs must do when they visit your city/region/state that exemplifies the spirit of Peace Corps service?
We are very proud of our joint representation with our Kansas and Missouri Peace Corps Recruiters at the annual Ethnic Enrichment Festival each August in Kansas City. The festival really celebrates the diversity and excitement of world cultures, and we feel that it is the perfect venue to promote Peace Corps service and to reach out to RPCVs.
What else should RPCVs know about your group?
Our logo depicts the Peace Corps logo enclosed in a heart, to symbolize Kansas City as "America's Heartland." Our group is certainly "heartfelt" in its interest in building community and genuinely interested in keeping the spirit of Peace Corps alive and well after service.
Thanks to Kirsty Morgan and other members of KCAPCA for providing this profile.
Get connected! There are over 155 NPCA member groups – geographic groups, country of service groups, and special interest groups. Find links to all of them on our website. Get involved with an affiliate group today!
Want your NPCA member group to be featured in the coming months? Contact us.
---