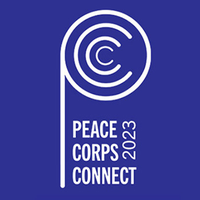 On September 8–9, National Peace Corps Association hosted a virtual two-day conference — Peace Corps Connect 2023. Here are videos and resources from the event.
By NPCA Staff
On Friday, September 8 and Saturday, September 9, NPCA hosted more than 400 members of the Peace Corps community for Peace Corps Connect 2023. During our virtual conference, NPCA Board of Directors and staff showcased updates on NPCA achievements; the latest developments in a key continuation of service initiative; and the three Loret Miller Ruppe Award finalists, along with NPCA's inaugural Lifetime Achievement Award given to John Coyne and Marian Haley Beil for producing the Peace Corps Worldwide blog. We were privileged to receive updates from RPCV Congressman John Garamendi (D-CA) on Peace Corps legislation and appropriations as well as hear opening remarks from Peace Corps Director Carol Spahn, who outlined how the agency is taking its work to the next level, especially with the largest generation of youth in history.
The true highlight of the event for many was the keynote address by StoryCorps CEO Sandra Clark (Guinea-Bissau 1990–94) who inspired us to think about service, our place in the world, how we choose to show up, and the power of our collective experiences to bring people together. Clark expertly moderated an engaging panel discussion featuring RPCVs Nicole Banister (South Africa 2013–16), Alana DeJoseph (Mali 1992–94), and Andrew Wilson (Senegal 1994–97) to explore reshaping the narrative of national and global service to inspire more people to serve.
Many thanks to those of you who were able to join us! It was a joy to speak with and engage with many members of our community during NPCA's second quarterly town hall on Friday and the breakout sessions on Saturday.

---
Watch Peace Corps Connect 2023 highlights and the full conference on the NPCA YouTube channel playlist.
Annual General Membership Meeting 2023 [Full Recording]
Affiliate Group Network Annual Meeting 2023 [Full Recoding]
Opening Remarks with Peace Corps Director Carol Spahn [Friday]
Annual General Membership Meeting sessions, keynote, panel discussion, and adjournment: Welcome Remarks with John Lee Evans, NPCA Board Chair | President's Report Introduction with Dan Baker | NPCA Advocacy with Jonathan Pearson | Creating and Maintaining a Vibrant Network | Continuation of Service Program | DEI presentation with Carla Brown, NPCA Board Member | Treasurer's Report and Fundraising Goals | Sandra Clark Keynote | Raising RPCV Voices Panel Discussion | Closing Remarks

Awards presentations: Loret Miller Ruppe Award Finalist Presentations | 2023 Ruppe Lifetime Achievement Award: Peace Corps Worldwide | Women of Peace Corps Legacy Awards
Some Special Thanks
All of us at NPCA share a special appreciation for the work by Lindsay Nickles and Jessica Howell for providing ASL interpretation services during the conference.
Share your feedback
We welcome and invite you to share your feedback as we prepare for next year's meeting by completing our Post-Conference Survey. Your insight is vital to ensuring that we continue to meet the needs of our membership.

---
Resources mentioned during the Annual General Membership Meeting:
Resources mentioned during the Awards Presentation:
Resources mentioned during Affiliate Group Network Annual Meeting:
---