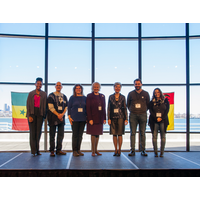 Please consider a gift to NPCA this giving season. In doing so, you help us, help our community connect, share best practices, and amplify our collective social impact. There is no better way to spread Peace Corps ideals than through a gift to NPCA!
What your gifts make possible
Our community-driven approach enables 182 NPCA affiliate groups to better champion their members to act on Peace Corps values across the country. This vast network is a tremendous force for good. Whether helping resettle refugees, cleaning up park trails, speaking in schools, or advocating for public policy, our community represents the best of America.
How you made it happen
NPCA builds the capacity of affiliate groups to do what they do best - champion causes at the grassroots level. We provide affiliate groups with the support and services they need to thrive - access to a modern community builder membership platform, group leadership forums and webinars, and small grants that serve to heighten community engagement.
Why your support is vital
In an increasingly divided America, now is the time to act on our Peace Corps values. NPCA must expand support to our community members and new affiliate groups to better enable them to champion the Third Goal. That means hiring dedicated staff to work with affiliate groups, holding more training webinars and events, and dispersing more capacity-building grants.
SPECIAL NOTE: If you are 70 ½ or older, consider allocating a portion of your IRA's minimum required distribution (RMD) to NPCA and save on taxes.
Give today and help NPCA advance our collective mission!
---