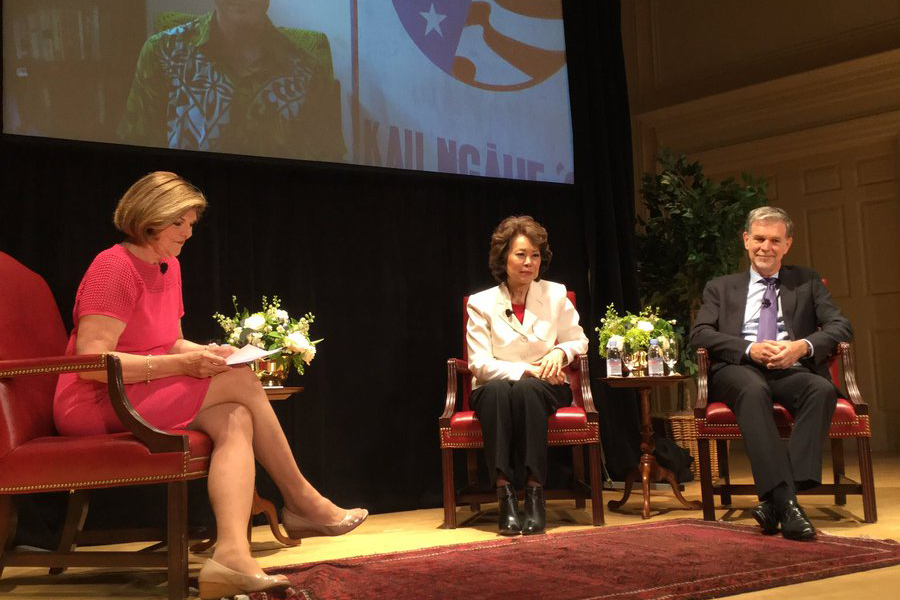 Peace Corps, service, and leadership were among the key themes at the third annual Daniel K. Inouye Distinguished Lecture Series, held Thursday evening at the John W. Kluge Center at the Library of Congress in Washington. Featured speakers included Secretary of Transportation and former Peace Corps Director Elaine Chao and Netflix co-founder Reed Hastings, who taught high school math in Swaziland during his Peace Corps service in the mid 1980s.
Building Leadership
Both speakers drew parallels between Peace Corps service and leadership. A desire to participate in some form of service eventually led Hastings to the Peace Corps, which he says "really develops your leadership muscle." Secretary Chao added her belief that leadership is not exclusively something one is born with, but rather is a trait that can be practiced and learned.
Both agreed that leadership does not follow a straight line, and often includes learning from setbacks. "The hardest experiences in your life are the times that you will experience the greatest personal growth," said Chao. Hastings, meanwhile, urged the audience to embrace failure, noting that not all of his Peace Corps projects ended with positive results. "You've got to be relatively fearless and just try things. And then keep that mindset of being okay with some failure and being willing to try. That is tremendously helpful in the private sector."
Service in the 21st Century
In considering today's economy and the workforce of the future, Secretary Chao noted the value of skills many acquire through Peace Corps service. "Every employer is looking for people who are curious, who want to learn, who have the ability to adjust and be flexible." She added that creativity and resourcefulness, ingenuity, and the ability to think are all desirable skills in our 21st century economy.
Moderator Ann Compton of ABC News asked both panelists about the role of service in a challenging "chaotic" world. Hastings said the U.S. has confronted more challenging times in its history (citing World War II and the Civil War as examples) while adding, "Difficult times is when service is most needed and most valuable."
A Positive Approach
Secretary Chao, an immigrant who arrived in America at the age of eight, emphasized the importance of having tenacity and a positive outlook. "Believe in the goodness of this country," she said while encouraging attendees to believe in themselves and never give up on pursuing their dreams. "There are so many generous benefactors who want to help."
A positive approach to oneself and the world remains central to the work of Peace Corps Volunteers. With Volunteers from several posts (as well as students from the University of Hawai'i Manoa) live streaming the program, Secretary Chao noted that "Peace Corps Volunteers can be great bridges of understanding in an increasingly complicated international world."
About the Daniel K. Inouye Distinguished Lecture Series
The Inouye Distinguished Lecture Series honors the late Hawaii Senator Daniel Inouye, reflecting his legacy of public service and civic engagement. This year's lecture was held in conjunction with the centennial of the birth of President John Kennedy. It also honored Hawaii's role as a primary training site for more than 7,000 Peace Corps Volunteers between 1962 and 1972.
---