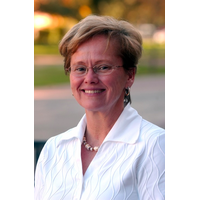 National Peace Corps Association is proud to announce Dr. Margee Ensign as a featured speaker at Peace Corps Connect in Washington D.C., September 21-25, 2016. Dr. Ensign is president of the American University of Nigeria (AUN), located in Yola, Adamawa, one of the three northeastern Nigerian states still under a state of emergency. She also leads the Adamawa Peace Initiative (API), which has successfully promoted peace in the area through education, empowerment, community development and humanitarian relief work in the region.
Dr. Ensign has worked in Africa for fifteen years and served as an advisor to the governments of Uganda and Rwanda. She is a widely published scholar whose work focuses primarily on the challenges of international development, as well as on the implications of development assistance. She co-authored Rwanda: History and Hope, a book in which she and AUN Trustee and Tulane University Professor Dr. William Bertrand document Rwanda's rebuilding efforts since 1994. She is also co-editor of Confronting Genocide in Rwanda and author of Doing Good or Doing Well? Japan's Foreign Aid Program and Images and Behavior of Private Bank Lending to Developing Countries.
The following segment from the article "Escape From Boko Haram" out of Smithsonian Magazine provides a snapshot of Dr. Ensign's leadership and determination in her role at AUN:
In northern Nigeria, a fearless American educator has created a refuge for young women desperate to evade the terrorist group
By Joshua Hammer; Smithsonian Magazine, September 2015

Shortly before six o'clock in the morning on August 30, 2014, Margee Ensign, president of the American University of Nigeria, met with her security chief in the large house that she occupies on campus, in Yola, near the nation's eastern border, in Adamawa State. The news was bad. The chief, Lionel Rawlins, had gone to get the half-dozen security guards that Ensign was counting on to help her with a daring rescue mission, but the guards were asleep, or perhaps pretending to be, and couldn't, or wouldn't, be roused.
"They were afraid," Rawlins later recalled.
Running a college doesn't often entail making split-second decisions about daredevil forays into hostile territory, but as this Saturday dawned for the energetic five-foot California native with a doctorate in international political economy, it was gut-check time.
"The president looked at me and I looked at her, and I knew what she was thinking," Rawlins said.
"We're going," Ensign said.
So they headed north in two Toyota vans, a suddenly meager contingent—Ensign, Rawlins, a driver and one other security guard—dashing down the crumbling two-lane highway through arid scrubland, deeper into remote country terrorized by the ruthless, heavily armed militant group called Boko Haram.
Rawlins, a former U.S. Marine, had contacts with vigilante groups in northern Nigeria, and thought he might be able to summon them if the going got tough. "All the way up there I'm playing war games in my mind," he remembered.
After three tense hours on the road, expecting to be ambushed by terrorists wielding automatic rifles at any moment, the little convoy rounded a corner and Ensign saw 11 girls and their families and friends waving and yelling at the vehicles approaching in clouds of dust.
The girls had attended a boarding school near Chibok, an obscure provincial town that is now famous because of the attack on the school the previous April. The astonishing crime attracted attention worldwide, including the Twitter campaign #BringBackOurGirls.

On that nightmarish night of the April abduction, 57 of the 276 kidnapped girls were able to jump off the trucks that were spiriting them away, and flee into the bush. They eventually returned to their villages to spend the broiling summer with their families, fearing another kidnapping mission every night. One of those Chibok escapees had a sister at the American University of Nigeria, and it was she who approached Ensign in her campus office, pleading, "What can you do to help?"
Ensign resolved to bring some of the girls who'd escaped to the university, where they could live and complete their secondary schooling before beginning college coursework, all on full scholarship. The girls and their parents warmed to the idea, then risked everything to make the extraordinary roadside rendezvous from their scattered small villages in the bush with the university president herself—an unforgettable encounter. "They were so scared, so skinny," Ensign said of the girls. "They had no money, no food, and they had all their possessions in little plastic bags."
As the van engines kept running, Ensign leapt out, greeted the girls and their families and told them "with cool assurance" (Rawlins' words) that all would be well. ("I didn't get the fear gene," Ensign later told me.) Quickly, about 200 locals gathered. Rawlins cast a wary glance at a group of men on the edge of the crowd whom nobody seemed to recognize. "We knew Boko Haram was in the area," Rawlins said. He turned to Ensign and the others. "We've got ten minutes," he told them. "Kiss everybody goodbye you want to kiss." Then he began a countdown for the 22 people, girls and parents alike, who would go to Yola. "Five minutes. Three minutes. Two minutes. Get in the vans!"
**********
---