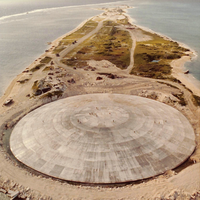 The Marshall Islands: Climate change and healthcare
By Jack Niedenthal
I work with a group of health care workers whom I will forever consider to be heroic. And this is why this is so:
In the Marshall Islands climate change to us is not a "threat," it already weighs heavily upon our island lives each and every day. Climate change not only means battling periodic inundations from rising sea levels that began to become routine in 2011, but now it also means fighting numerous and unpredictable disease outbreaks. And it will undoubtedly continue in this manner well into the future. This has become our new normal.
I am the Secretary of Health and Human Services for the Marshall Islands, a country with 53,000 people located in the north central Pacific Ocean. I moved into this position after first serving a two-year term as the Marshall Islands Red Cross Society's first Secretary General, a role in which I led work on building up our community climate change resilience by having our team train over 1,000 local citizens in first aid in order to create an army of natural disaster first responders. Now, as the secretary of health, I have the responsibility of overseeing the day-to-day operations for two major hospitals and 50 outer island dispensaries that employ a total of more than 600 people.
Our country has been under siege from disease since the beginning of 2019. Indeed, since August 2019 and into March 2020, we were in a constant government-declared state of health emergency because of a horrific outbreak of dengue fever that has infected over 2,000 people and has caused the death of two children.
Our hospital in the capital city of Majuro, now often crowded with patients to the point where the ER has become like a temporary medical ward, is decades old and is constantly falling apart. Repair requests are a daily routine: Leaky roofs, broken air conditioners, faulty and clogged ancient plumbing, medical and diagnostic equipment breakages due to fluctuating power issues, and rodent infestation are normal in our workplace. When I took on the role of secretary of health just over a year ago, I felt as if I had stepped into a giant foxhole to fight a war against an unseen enemy. But watching hundreds of healthcare workers around me attack their jobs with such tireless dedication—doctors, nurses, service and administration people alike—immediately filled me with overwhelming respect for what they do, and for what I was getting into as a leader.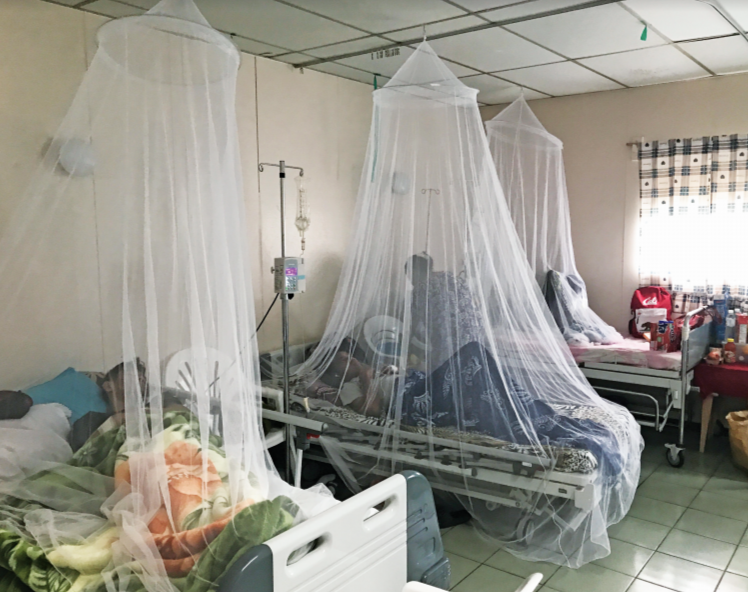 Majuro Hospital: Dengue fever victims in a hastily-constructed ward. They need to be monitored every hour on the hour, 24/7.
Photo courtesy of Jack Niedenthal
Litany and Legacy
Along with the dengue outbreak, we have had five other disease outbreaks in 2019–20, along with a measles alert in late 2019 (though no confirmed cases yet): a large rotavirus outbreak (February 2019); a large Influenza B outbreak (May 2019); a small typhoid fever alert (May 2019); a small pertussis/whooping cough outbreak (June 2019); a large Dengue 3 outbreak—since July 2019 on Ebeye Island, the most populous of the Kwajalein Atoll, and since August 2019 in Majuro (both ongoing); and a large Influenza A outbreak (November 2019 to present). When the World Health Organization declared the coronavirus an emergency of international concern in January, we consulted with WHO lawyers and quickly instituted a travel ban.
The Marshall Islands is no stranger to health issues. To the outside world, these islands are perhaps best known for the 67 nuclear and thermonuclear weapons tests conducted by the U.S. government from 1946 to 1958 on Bikini and Enewetak atolls. This series of devastating weapons tests has caused the Marshall Islands to have one of the highest per capita rates of cancer in the world. Landscapes on Bikini and Enewetak atolls are littered with the permanent scars left behind by hydrogen bombs that were as much as 1,000 times greater in strength than the Hiroshima and Nagasaki nuclear weapons used against Japan in World War II.
Without question, those weapons tests changed the lives of the people of the Marshall Islands forever. The Runit Dome on Enewetak Atoll is the largest structure that still remains from the nuclear testing period. It is a massive concrete-covered tomb filled with plutonium waste that will be radioactive for tens of thousands of years. Its deadly contents are now leaking into the environment. In late 2019, the U.S. Congress committed to funding an environmental study of the Runit Dome. We hope this will lead to a course of action to remove the dome and its contents.
I arrived on the islands in 1981 to work as a Peace Corps volunteer, just two years after the Republic of the Marshall Islands was established as an independent nation. I then went on to work for the people of Bikini for 33 years as their advocate and their liaison to the outside world. My wife of 31 years, our five children, and our four grandchildren are all Bikini islanders.
The Cold War was in many ways fought and won on the shores of Bikini and Enewetak atolls. The contribution and sacrifice—of both limb and land—by the people of the Marshall Islands to the security and well-being of the citizens of the United States has been huge, though it has gone largely unrecognized: You won't find mention of these weapons tests and their devastation wrought upon our people in most U.S. high school history books.
As for our serious health issues, they do not end with high cancer rates. Indeed, our type II diabetes and our tuberculosis per capita rates are also some of the highest in the world; obesity and high blood pressure issues are common. Nearly our entire population is burdened with direly weakened immune systems, which is why we are currently waging an urgent, comprehensive measles immunization campaign. As of December of 2019, all travelers entering the Marshall Islands must show evidence of two doses of MMR vaccinations. In Samoa, to the southwest of us, in recent months more than 80 people died due to a measles outbreak that caused more than 5,000 citizens fall ill to the highly contagious disease. Samoa had not been prepared for the outbreak due to horrifically low immunization rates, especially among young children.
In fact, measles has been spreading rapidly throughout the Pacific region: Fiji, Tonga, American Samoa, New Zealand, Kiribati, Niue, and Australia have all reported measles cases. Even in the United States, 31 states reported a total of 1,276 measles cases in 2019, the highest annual number of measles cases since 1992. Eleven of those 31 states declared measles "outbreaks."
Unfortunately, compounding the disease war that we now find ourselves in is this fact: Like many small island nations, we just don't have enough funding to meet our extreme health care needs. Though we have a universal healthcare system, and though we are constantly and thankfully being supported by a dozen international health organizations and world banking institutions, we still find ourselves battling between the need for purchasing equipment, medicines, and supplies while at the same time dealing with a payroll that has had the same salary levels, when factoring in inflation, since the 1980s.
The Common Good
As a Peace Corps volunteer from 1981 to 1984, I spent three years on a very isolated outer island atoll called Namo. At the time Namo had no airport, and we were lucky if a supply ship arrived every five or six months. In 1982 Namo was hit by a massive typhoon that raged for three long days. The storm arrived without any warning to us. It ripped trees from the ground and destroyed almost every house on the island. In its wake, as if that wasn't enough, we suffered from a year-long drought.
One of the main reasons I decided to stay in the Marshall Islands after my Peace Corps experience was because of what I had witnessed during those times of great strife while living on Namo. The outer islands in the Marshall Islands are usually only populated by a couple hundred people. There everyone is family, so that is the only way they know how to treat you—even as an outsider from a distant country. For a young American, it was an extraordinary, eye-opening experience. It was refreshing and it was beautiful. They shared. They cared for one another, they always made sure everyone was OK and was taken care of. We went hungry but no one starved. The island was devastated by the typhoon, but everyone worked together to quickly fix all of their houses and repair damage to community buildings. There was no government relief help or the equivalent of FEMA, just fellow islanders working together for the common good. This was the Marshallese culture working as it was shaped by their elders centuries ago, a valuable series of lessons that most of the world has yet to learn—or has forgotten. And this is what drew me in and changed the way I thought and behaved toward others.
I firmly believe that given what the people of the Marshall Islands have done for the rest of humanity, we all have a moral obligation to ensure they have the best healthcare the world has to offer. The United States has given us funding for a desperately needed new hospital. The first phase of construction, a surgical ward, has already been completed and is in use, but we are still five or six years away from the rest of the hospital being finished.
In the meantime, one of the solutions to creating a better healthcare system for the people of the Marshall Islands is the building and establishment of resilient, institutional practices within our ministry of health. This is easier said than done because many of our methods and practices have been ingrained and in use for decades, and the bureaucracy we deal with is brutally inefficient. However, because of the quality of those individuals who work with me, I believe a new paradigm for how healthcare works here is achievable. It is now an absolute necessity for our survival as a small island nation.
As climate change—with its inundations and disease outbreaks—becomes more and more of a central factor in our lives, I believe that healthcare must become the predominant priority for the government. Because of the overwhelming epidemic of TB and noncommunicable diseases like diabetes here in the Republic of the Marshall Islands, the influx of climate change-propagated diseases is going to become a major threat to the people here. All this will put healthcare workers on the front line of our fight to survive as a nation.
---
Jack Niedenthal has served as secretary of health and human services for the Marshall Islands since January 2019. After studies at University of Arizona, he was a Peace Corps Volunteer in Namo Atoll 1981–84, for more than three decades served the people of Bikini Atoll as their advocate and Trust Liaison, and was the first secretary general of the Marshall Islands Red Cross. He is an award-winning filmmaker and author of the book "For the Good of Mankind: A History of the People of Bikini and their Islands."
This story was first published in WorldView magazine's Spring 2020 edition..
---