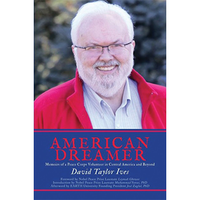 American Dreamer
Memoirs of a Peace Corps Volunteer in Central America and Beyond
By David Taylor Ives
Epigraph Publishing
Reviewed by Jim Skelton
Decades before David Taylor Ives took on responsibilities as the executive director of the Albert Schweitzer Institute of Quinnipiac University, he served as a Volunteer in Costa Rica 1980–82. Included in this first-person chronicle, anchored by that experience, is a foreword by Leymah Gbowee and an introduction by Muhammad Yunus, both Nobel Peace Prize laureates. They introduce Ives as a humble man who believes there is good in humanity and is committed to justice.
Ives grew up in Pierpont, Ohio, a town of 300 people and 3,000 cows, as he puts it, where his father served as the pastor of the Presbyterian church. As a child he contracted polio "weeks before the polio vaccine was widely available." He was placed in an iron lung and never expected to walk without crutches or braces. His mother believed in exercise; by eighth grade, David was playing baseball. In high school, as a wrestler, he won the conference championship in his weight class.
Nobel Peace Prize laureates Leymah Gbowee and Muhammad Yunus laud David Ives as a humble man committed to justice.
On a family journey through Latin America in 1967, Ives fell in love with the region. He uses letters he wrote to his father to narrate his Peace Corps experience, supplemented with insights gained from decades of hindsight. He narrates daily life in the community of Los Chiles, including fiestas and evenings of conversation — as well as the spillover of civil war from Nicaragua, and suspicions that this Volunteer was a spy.
His career has taken him to posts that include Colorado College and the Louis August Jonas Foundation. He has written on nuclear proliferation and served as executive producer of a 2005 Emmy-winning documentary on Albert Schweitzer. He has worked with leaders like President Jimmy Carter and the Dalai Lama, and served as the senior advisor to the Permanent Secretariat of the Summits of Nobel Peace Prize Laureates. He has himself been nominated for the Nobel Peace Prize four times.
This review appears in the special 2022 Books Edition of WorldView magazine. It is adapted from a review originally published by Peace Corps Worldwide.
---
Jim Skelton served as a Volunteer in Ethiopia 1970–72. He was the lead editor on the award-winning volume Eradicating Smallpox in Ethiopia.
---