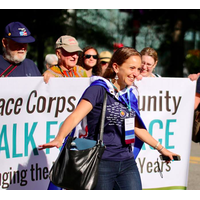 By Maricarmen Smith-Martinez (Costa Rica 2006-2008)
As Peace Corps Volunteers, our desire to impact our communities and effect positive change drives us to invest our time, our skills, and our passion. Providing guidance as a community leader, as a mentor, and as a friend, I impacted my community in Costa Rica in many ways. Back at home, the investment continues as the community grows. You can "close the service" of a Volunteer, but you can never take away our passion to serve.
As a Mission Partner of the NPCA, I know that my contributions support our larger Peace Corps community and allow us to increase our impact both at home and abroad. As a Shriver Circle member, I contribute my financial support, providing NPCA with the flexibility to employ it where it's needed most. As an advocate, I share my Volunteer experience, encouraging Congress to build a bigger, better Peace Corps.
As the Coordinator of the Affiliate Group Network (AGN) on the NPCA Board, I partner with staff to enable our affiliate groups to thrive. Working with AGN leaders at the grassroots level, we identified necessary resources and developed a platform to provide better methods for groups to engage and connect. Our nearly 160 affiliate groups are always looking for tools to engage their membership, expand their reach, and increase their impact. As a result, we launched the Purpose-driven Group webinar series, enabling groups to build their capacity through best-practices on topics such as legal considerations or how to host a Story Slam. The webinar series also provides the opportunity to learn about NPCA benefits like SilkStart, the Community Builder platform that offers comprehensive technology for website and membership database management.
As a proud member of the Peace Corps community, I make an impact by continuing to serve.
Make your impact. Become a Mission Partner of the NPCA.
---