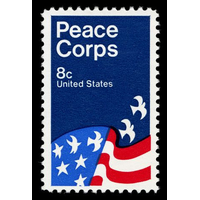 Congresswoman Barbara Lee is hoping to deliver for Peace Corps Volunteers and their communities.
A Peace Corps Semipostal Stamp, introduced by Congresswoman Lee (D-CA-13) in early January, would give the American public the opportunity to fundraise for Volunteer projects, and raise the profile of the world's gold standard for international volunteerism in the process.
H.R.332 would allow for the creation of a Peace Corps stamp and for all proceeds from the stamp to go towards the Peace Corps' Global Fund in support of Volunteer- and community-led projects around the world. In FY16 alone, over 600 sustainable projects in nearly 50 countries were funded through the Global Fund's Let Girls Learn and Peace Corps Partnership Program, providing urgently needed projects in water and sanitation, education, and youth and economic development. The bill would allow for the stamp to be available for 10 years.
"The Peace Corps is an American institution which has helped foster global peace and cross-cultural understanding for decades," Congresswoman Lee told NPCA. "The creation of a Peace Corps stamp would be a fitting tribute to this remarkable organization. I encourage my colleagues to cosponsor this bipartisan bill, which would further our shared goal of advancing peace, friendship and sustainable development around the world."
The bipartisan bill already has 16 co-sponsors. Sponsors for a Senate bill are still being sought.
There are currently two semipostal—or "fundraising"—stamps available, the Breast Cancer Research Stamp and the Save Vanishing Species Stamp. Through November 2016, the stamps have raised nearly $84 million for breast cancer research at the National Institutes of Health and the Medical Research Program at the Department of Defense, and $3.7 million to help protect threatened and vanishing species through the U. S. Fish and Wildlife Service to support the Multinational Species Conservation Funds.
Take Action
To support Congresswoman Lee's and NPCA's efforts, ask your lawmakers to co-sponsor H.R.332.
---