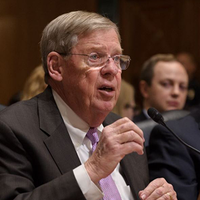 Bipartisanship is "a state of being," said Johnny Isakson
By Catherine Gardner
Photo courtesy office of Johnny Isakson
"The dedicated men and women of the U.S. Peace Corps work hard to help communities and foster goodwill around the world," U.S. Senator Johnny Isakson said in 2018. The occasion was important but not exactly celebratory: Isakson was co-sponsoring introduction of the Nick Castle Peace Corps Volunteer Protection Act — bipartisan legislation named in honor of a Volunteer from Brentwood, California, who lost his life at age 23 due to inadequate health care while serving in China in 2013.
Isakson, a Republican from Georgia first elected to the Senate in 2004, had long been a champion for Volunteers. He served as a sponsor for the 2011 Kate Puzey Peace Corps Volunteer Protection Act, named in honor of a Volunteer who was murdered in Benin; the law instituted reforms that included a comprehensive sexual assault policy with risk-reduction and response training. Isakson's support of the Peace Corps extended to advocating for robust funding for the agency and serving as Republican lead on the annual Peace Corps funding "Dear Colleague" letter. For his advocacy on behalf of the Peace Corps community, in 2013 National Peace Corps Association presented him with the Peace Corps Congressional Leadership Award.
As a legislator, Isakson earned a reputation for promoting civility and honesty in the realm of politics. He called bipartisanship "a state of being." He was a strong force on the education committee, advocating for President George W. Bush's No Child Left Behind legislation.
He arrived in Washington having served in the Georgia House of Representatives and Senate. He was appointed to the U.S. House of Representatives to fill Newt Gingrich's seat after Gingrich stepped down. He had served in the Georgia Air National Guard before beginning work for Northside Realty, where he climbed the ranks until he became president of the company and served in that capacity for over 20 years.
Several years ago he was diagnosed with Parkinson's disease but continued to serve in the Senate. He resigned in 2019, during his third term, citing health concerns. He was born in 1944 and died in December 2021 at age 76.
This remembrance appears in the Spring-Summer edition of WorldView magazine.
---
Catherine Gardner is an intern with WorldView. She is a student at Lafayette College.
---