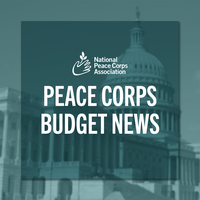 Congress has finally passed a budget for fiscal year 2022. It keeps funding flat for the Peace Corps for the seventh year in a row. To ensure a better and stronger Peace Corps as Volunteers return to the field, and to enable the agency to make needed reforms, Congress needs to provide more funding.
By Jonathan Pearson
Congress has completed its work on a budget for fiscal year 2022, passing a $1.5 trillion spending package. That's the good news. Unfortunately, for a seventh consecutive year, instead of providing new resources to better meet the needs of a changed world, it keeps Peace Corps' baseline funding flat at $410.5 million.
We are nearly six months into the current fiscal year, FY 2022. The House of Representatives passed the spending bill on Wednesday night. The Senate approved the spending package on Thursday night. The spending package now goes to the president for his signature.
The entire international affairs budget received only a small increase in funding. Final deliberations led to the removal of funds proposed for further resources to address COVID-19 both domestically and globally.
Read this statement from the US Global Leadership Coalition.
Read the latest news on congressional action.
NPCA Statement: Let's Ensure that Peace Corps Has Funding to Make Needed Reforms and Meet the Needs of a Changed World
National Peace Corps Association President Glenn Blumhorst issued this statement on final congressional action on FY 2022 congressional spending, and the upcoming FY 2023 budget:
Last week, the Peace Corps community was excited to hear news that the first Volunteers are scheduled to return to service in Zambia and the Dominican Republic later this month, with plans well underway for the return of Volunteers to an additional 22 countries in the next few months.

Today, we are disappointed and quite concerned that for the seventh consecutive year, Congress has approved a federal spending package that will continue flat funding for the Peace Corps' baseline appropriation through Fiscal Year 2022.

There must not be an eighth consecutive year of flat funding. In the coming weeks, President Biden needs to present Congress with a Fiscal Year 2023 budget request that will support an accelerated return to service for Volunteers, a restoration of some of the purchasing power Peace Corps has been losing due to inflation, and an acknowledgement that a stronger Peace Corps, ready to initiate improvements and reforms to be its best, will have the resources to carry out is mission.

The Peace Corps needs a raise. The President and Congress need to respond to that need.
Take Action Now: Urge the President to Request Increased Funding to Support the Peace Corps as Volunteers Return to Service Overseas
With the conclusion of work on Fiscal Year 2022, attention will quickly shift to the fiscal year that will begin in October 2022. As Congress awaits President Biden's Fiscal Year 2023 budget, take action now to urge the president to request increased funding for the Peace Corps as Volunteers return to the field.
---
Jonathan Pearson is Director of Advocacy for National Peace Corps Association. Write him at advocacy@peacecorpsconnect.org.
---