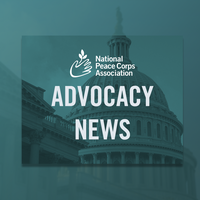 After weeks of negotiations, Congress approved and President Trump signed a $1.4 trillion federal spending bill for the current fiscal year (FY 2020) that includes level funding of $410.5 million for Peace Corps.
The House of Representatives approved the spending package on December 17th, while the Senate ratified the package on December 19th. President Trump signed the legislation on December 20th, the day when a continuing resolution to keep the government operating was set to expire.
"While we realize our lawmakers have many difficult decisions before them when putting together our federal budget, it is disappointing they chose to flat fund Peace Corps once again," said NPCA President Glenn Blumhorst. "Other than a very minimal – one tenth of one percent – increase in spending last year, this will mark the fifth consecutive year that Peace Corps will be forced to manage its operations with the same amount of funding. When inflation is factored in, the agency will need to sustain operations with tens of millions of dollars less in purchasing power. Peace Corps is already experiencing negative impacts, at a time when the needs and importance of international service is as important as ever."
While Congress only funded Peace Corps at current levels, it rejected the Trump Administration's recommendation to cut funding by more than $14 million. The president has proposed cutting Peace Corps' budget each of the past three years.
Read more about congressional action on the federal budget by clicking here. Read more about FY 2020 funding for international affairs programs by clicking here.
---