Photo Credit: Cedar Spring Wolf
Conference Highlights III:
Social Enterprise Pitch Competition
The Peace Corps community's pilot social enterprise pitch competition took place at Peace Corps Connect this year, hosted by the Returned Peace Corps Volunteers of Colorado (RPCVCO). This competition showcased work in our Peace Corps community that exemplifies partnership and collaboration and impacts the world around us. Six finalists competed for two prizes, an Audience's Choice Award and a Judge's Choice Award, each totaling $3300.
Each of the 6 finalists made a 5-minute pitch to the panel of judges, which included Ann Moore (RPCV Togo), who invented the Snuggli baby carrier; Doug Jackson, president and CEO of Project C.U.R.E.; Burke Fishburn, Executive Director of the Posner Center for International Development; Kathryn Zerr, member of the Denver LoDo Rotary club; and our own Glenn Blumhorst, president and CEO of NPCA.
After all the pitches were made, the audience voted on their personal mobile devices for their favorite social enterprise while the judges conferred on theirs. The Audience Choice Award went to Bokk Baby, founded by Margaret Davidson and Danny White, a married couple that served in Senegal (2012-14). Bokk Baby is an e-commerce social enterprise launching in fall 2017 that retails sustainably made baby apparel, blankets, and signature gift boxes. Their apparel is manufactured in Denver, Colorado using eco-friendly, organic textiles, and their gift boxes for Mom & Baby include return shipping labels, so parents can donate gently used baby clothing and blankets back to them. Bokk Baby packages donated items into gift bundles and distributes them to new mothers in rural Senegal in partnership with local community health workers. Given that textile manufacturing is the second-most pol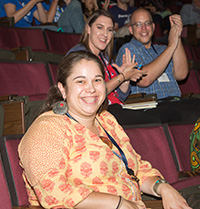 luting industry in the world, Bokk Baby helps to reduce waste at the production level and to encourage recycling. "Bokk" means "to share" in Wolof (the language spoken where they served in Senegal), and sharing is at the root of what they do: we all share the same planet, and every baby is born to make a difference.
The judges' pick was Friends of ENCA farms, led by Sherry Manning (RPCV Philippines, 2006-08) and Carrie Evans (RPCV Philippines, 1985-88). Friends of ENCA Farm is helping Filipino farmers access the seeds to their future. More than 2 billion people in the world, including the majority of the Philippines, rely on food that is produced from smallholder farmers, defined as those who farm less than 2 hectares. However, today, the majority of the world's seeds are not owned by farmers but by 3 major bio-chemical companies. Friends of ENCA Farm has launched a grassroots farmer-led seed saving movement in the Philippines and is now ready to help participating farmers develop a farmer-led owned and operated social-enterprise organic seed company. This project will ensure that greater numbers of smallholder farmers have access to locally produced, regionally adapted organic seeds and will provide increased economic development for the participating farmers. Here's a video of Sherry making her pitch (video credit: Callen Blackburn; photo credit: Cedar Spring Wolf).
Though they could only hand out one award, the judges praised all the finalists for being change agents. Given the enthusiasm of the crowd, Glenn Blumhorst announced that NPCA has begun a program to support social entrepreneurs, including another pitch competition next year.
---