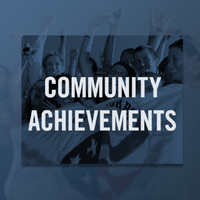 Community News - Achievements of RPCVs
Author: Peter Deekle
September 2019
CAMEROON

Daniel Martin Moore's new album Never Look Away is due out on October 4. In its title track which he co-produced, the Kentucky singer-songwriter tries to convince himself, and listeners, that all hope is not lost: "I hear that song as a way of accepting that it is still possible to be peaceful in our obsessive and hectic cultures." Moore has released seven albums since 2008 and will be touring this fall and into next year.
CHILE

Juana Bordas (1964-1966) is the president of Mestiza Leadership International, a company focused on leadership, diversity, and organizational change. The first Latina to serve as a faculty for the Center for Creative Leadership (CCL), she taught in the Leadership Development Program. She will receive the International Leadership Association's Lifetime Achievement Award at its October 2019 annual conference.
COSTA RICA

David Ives (1980-1983), the executive director emeritus of the Albert Schweitzer Institute at Quinnipiac University in Connecticut, an adjunct professor of international relations, political Science, philosophy, and Latin American studies, has been nominated for the Nobel Peace Prize. Nominated three times for this prize, he was last nominated in 2016 for his peace initiatives in Central America.
JAMAICA

Carrie Dolan (2002-2003) is an assistant professor in the Department of Kinesiology & Health Sciences at the College of William & Mary. She began her scientific explorations as a Peace Corps Volunteer in Jamaica, working with the Ministry of Health. Her investigation of health care issues in the world's remote locations from Jamaica to Kenya resulted in her selection as a Fellow of the Explorers Club, founded in 1904 to promote "the scientific exploration of land, sea, air, and space by supporting research and education in the physical, natural and biological sciences."
MALAYSIA

Paul Thompson (1970-1973) started his work as an environmental advocate and volunteer in a group known as the Citizens Climate Lobby in 2007. Thompson was a fulltime teacher until his retirement in 2008. After his retirement, he has spent the past 11 years working on programs alerting the world of the current climate change issues. He has been carrying out his mission alongside his wife, Mindy.
NIGER

Lisa Curtis (2010-2011) is the co-founder of Kuli Kuli, the first brand to introduce the green superfood moringa to the U.S. market. She gained a first-hand understanding of the common nutritional challenges faced in West African villages during her Peace Corps service.
UKRAINE

Ed Riehl (2006-2008) founded the Delaware Valley Fairness Project, a nonprofit that supports Philadelphia schools and families. Since 2016, it has invested more than $500,000 on staff to support schools and on projects large and small, from launching and maintaining food pantries inside four city schools to buying furniture for a family getting back on its feet after homelessness.
---
Please share your news with us! Email Peter Deekle.
---