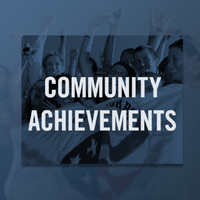 Community News
Author: Peter Deekle
October 4th - 2018
AFGHANISTAN
Nick Hoesl (1965-1967) accepted at the Peace Corps Connect conference in August the 2018 Loret Miller Ruppe Award for Outstanding Community Service on behalf of the Cincinnati Area Returned Volunteers (CARV) who worked with Catholic Charities of southwestern Ohio in helping welcome recent migrants and refugees into the Cincinnati community.
BRAZIL
In a new book by RPCV Ken Fliés (1962-1964) titled Into the Backlands: A Peace Corps Memoir, the author writes about his experience in Brazil where he was a volunteer for two years. The book includes selections of his diary along with other notes, letters and memories of his service.
CHILE
Jan Black (1962-1964) is a human rights activist who hosted a public event on September 7, 2018, announcing the formation of a scholarship to study human rights. The evening included remarks from State Senator. Bill Monning, D-Carmel, and Margaret Huang, executive director of Amnesty International, and served a dual purpose as Black's public farewell to the academic and activist community.
COLOMBIA
On November 2, 2018, Patricia A. Wand (1963-1965) will receive Antioch University New England Horace Mann Spirit of Service Award. The award recognizes individuals who have won victories for humanity through their work or volunteerism. Pat is a former National Peace Corps Association board member and current leader of the Museum of the Peace Corps Experience (https://www.museumofthepeacecorpsexperience.org/cpages/home)>
COSTA RICA
Maricarmen Smith-Martinez (2006-08), NPCA's new board chair, has been included among Emory University's 40 top alumni under 40.
ETHIOPIA
In the Fall 2018 issue of American Diplomacy: Insight and Analysis from Foreign Affairs Practitioners and Scholars, John Coyne (1962-1964) cites the experience of six RPCVs in his article, Joining the Foreign Service: The Experiences of Returned Peace Corp Volunteers. The article reports some the many routes individuals take toward service with the Department of State. John is the editor of Peace Corps OnLine (http://peacecorpsworldwide.org/).
GHANA
Steven Fenichel (who taught science during his Peace Corps service in a Ghana teaching college), of Ocean City and a doctor, is an independent candidate for Congress in New Jersey's 2nd District, championing health care for all using a single-payer system.
IRAN
Steve Horowitz (1968-1970) stories of his experiences during Peace Corps service is the inspiration of The Orange Garden, a play written by his daughter, Joanna Garner. The playwright has won the 2018 Israel Baran Award for her political play.
LESOTHO/BELIZE
Ellen London (Lesotho, 1976-1978; Belize, 1979-1980) came by her international engagement early on during her Peace Corps service with husband Rit London. Her recent SS2019 fashion designs were shown at the International Couture Show in Washington, DC at the French Embassy (September 2018).
NEPAL/MOLDOVA
Peace Corps service may be a recurring experience, as David Jarmul personifies. After serving in Nepal more than 40 years ago, he retired three years ago as head of news and communications at Duke University, enabling him to consider a second two-year Peace Corps assignment. He and his wife (whom he met in Nepal) have recently completed their service abroad, where David worked in a local library, taught classes in computer coding, robotics and English conversation, and helped create a children's room for families. Champa taught English at a local school and volunteered at a local center for kids with special needs.
NIGER
Youth Advocate Brett McNaught (2001-2003) received the 2018 Child Welfare Champion Award at the Child Protection Summit in Orlando on Friday, Sept. 7. He was recognized for his ability to increase graduation rates on behalf of disadvantaged youth as a leader with his wife, Virginia Emmons McNaught, of Educate Tomorrow, a Miami-based nonprofit organization.
SIERRA LEONE
Arlene Golembiewski (1974-76) received during the Peace Corps Connect conference the 2018 Sargent Shriver Award for Distinguished Humanitarian Service for her work helping educate and empower young women in Sierra Leone over the past seven years following her retirement at Proctor & Gamble.
YEMEN and HONDURAS
Peggy Schaeffer (Yemen, 1977-79) and Marian Abernathy (Honduras, 1986-88) -– worked with local faith leaders in Durham NC last August to organize an advocacy event that brought area residents together around the theme of Reuniting Families in support for refugees and immigrants. The event has helped jump start a new coalition, Triangle Interfaith Advocates for Refugees and Immigrants (TIARI).
---