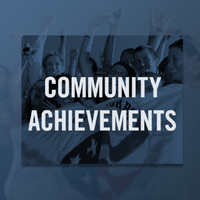 Community News – Achievements of RPCVs
Author: Peter Deekle
November 2018
CHINA
Peter Hessler (1996-1998) was one of the eight Missouri Honor Medal recipients in 2018 for his distinguished service in journalism. His life and work in China generated four acclaimed books on that country's culture.
DOMINICAN REPUBLIC
Scott Coppa (2015-2017) teamed up with friends in Indiana after his Peace Corps service and founded Puente – a nonprofit organization making it easier for volunteer groups to pick a target area to work in and know exactly what that community is lacking, allowing them to preplan their projects.
THE GAMBIA
Malcolm Velasco (2013-2015), a second-year medical student at Mercer University, received a Benjamin H. Kean Travel Fellowship in Tropical Medicine to conduct research in The Gambia in West Africa in summer 2018. He was one of 21 fellows selected this year from medical schools across the country. The Kean Travel Fellowship in Tropical Medicine is awarded annually by the American Society of Tropical Medicine and Hygiene (ASTMH) to support medical students involved in clinical or research electives in tropical areas.
GUATEMALA
Matthew (Mateo) Peters (1999-2001), director of the Chesapeake Multicultural Resource Center, met on October 10 at the Talbot County Free Library to discuss historical migration trends. ChesMRC strives to break down cultural barriers that arise from differences in language, appearance or ethnic traditions. It has assisted more than 2,000 immigrants and families.
JAMAICA
Cymone Wilson (2016-2018) is continuing her in-country service through shipments of books to Jamaican libraries. She now works for Elevate K-12, an education technology company with a mission to make online learning accessible to students, regardless of socioeconomic status. She wants to help recruit more Peace Corps volunteers, especially minorities.
LIBERIA
Sometimes the legacy of Peace Corps service inspires action long after that service has ended. Such is the case in a Liberian community of Gbamga where, in October 2018, the Garden School opened, sponsored by the family of an RPCV who served in the 1960s. Stephanie Vickers (1971-1973) said the donors were motivated to sponsor the construction of a local school following a training the U.S.-based group called the Friends of Liberia conducted for Liberian educators in early childhood education.
Beverly Sweet (1978-1983), Wellsville (NY) High School teacher of American History and Government, has been selected by the NYS Organization of the National Society Daughters of the American Revolution as the statewide winner of the Outstanding Teacher of American History Award. She received her award on September 22, 2018.
MALI/SENEGAL
Roy Cole (1975-1979) Last September, Cole, a professor of Geography and Sustainable Planning at GVSU, and his wife, Mary, were finalists in Michigan for the Governor's Energy Excellence Award. This award honors organizations and individuals statewide for their commitment to responsible energy production and consumption. The Coles were nominated for the "Best Residential Projects" category in acknowledgement of the extensive work they have taken to conserve energy at home.
NEPAL
Kevin Bubriski (1975-1978) is a documentary photographer who recently published a new book, Mustang: In Black and White, inspired by a new collaboration with Sienna Craig (a Dartmouth associate professor) on Nepalese photography, culture and history.
NIGER
Cornell College (Iowa) presented its Leadership and Service Award to Ken Patterson (1992-1995) in recognition of his global efforts to address extreme poverty and disease. Ken is the director of grassroots advocacy at RESULTS (an international organization working to end poverty across the globe).
Lisa Curtis (2010-2011) is founder of Kuli Kuli Foods, an energy bar, shot, and nutrition powder company made from the local moringa plant. In late summer 2018 the company earned a federal grant from the Millennium Challenge Corporation, a foreign aid agency that focuses on helping countries find homegrown economic ways to fight poverty, in part to battle terrorism.
TOGO
Maggie Fleming (2002-2004) was recognized with the Dr. Kenneth K Bateman Outstanding Alumni Award by Pittsburg State University in October 2018 for her international service. Following her Peace Corps service, she became a senior disaster operations specialist with the Office of U.S. Foreign Disaster Assistance within the U.S. Agency for International Development and later on took on the role of deputy director of emergency response. Her current primary focus is an Ebola outbreak in the Democratic Republic of Congo.
---