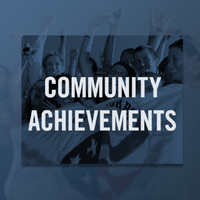 Community News - Achievements of RPCVs
Author: Peter Deekle
January 2020
BELIZE

Nancy Heil Knor (1989-1991) has published WOVEN, a book filled with letters, journal entries, and spiritual reflections from her two years in Belize.
GHANA
Zack Moore received a month-long Fulbright international exchange award, teaching science and technology at Ghana-Lebanon Islamic School.

Caitlin Wilson (2017-2019) recently completed her Peace Corps service as an agricultural extension agent and is now pursuing a Masters of Science degree at West Virginia University. She plans to work in the field of natural resource management upon graduation.
KENYA

Terry Severson (1984-1986) is the forest fire management officer at the Hoosier National Forest (Indiana). He has managed fires for three federal agencies: the U.S. Fish and Wildlife Service, the U.S. National Parks Service, and the U.S. Forest Service. International opportunities facilitated by the Forest Service have taken him to the Democratic Republic of Congo in recent years.
MOROCCO

Robert Cochrane (1981-1983) released the novel, Sayonara Sacrifice in November 2019. The 320-page baseball fiction mystery was published by Xpat Fiction.
NICARAGUA

Kurt Krahn (2003-2005) became executive director of the Santa Fe Habitat for Humanity on Jan. 1, 2020. His Spanish fluency and his interest in Habitat's commitment to installing solar power in their homes were motivating factors for his appointment.
RWANDA
Markey

Culver (2010-2012) is the founder and CEO of The Women's Bakery (Uganda, Tanzania, Rwanda, and United States), which teaches women to build businesses that nourish communities and support families.
SOUTH KOREA

Linda and Gordon Gidlund (1977-1979) recently traveled to South Korea as guests of the Korea Foundation, an organization that fosters global understanding. Their week-long stay included visits to museums, schools, historical sites, and, most rewardingly, the headquarters of the Korea Overseas International Cooperation Agency (KOICA), an equivalent of the Peace Corps in annually sending thousands of Korean aid workers to 56 developing countries.
UKRAINE
Mathew Corliss (2017-2019) discussed in a talk in mid-December Ukraine's history since independence in 1991, including the Ukrainian revolution, language politics, corruption, and the wars in the eastern region of Ukraine and Crimea. Ukrainian-Russian relations and relations with the United States was a central focus of his remarks. Corliss also discussed the significance of the election of President Zelensky and provided explanations of who's who in Ukrainian politics.
---
Please share your news with us! Email Peter Deekle.
---