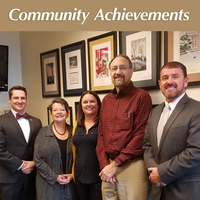 Community News - Achievements of RPCVs
Author: Peter Deekle
February 2020
AFGHANISTAN

Tony Agnello is preparing a presentation in 2020 for a sermon at a local Unitarian Church entitled Afghanistan - Where Empires Go To Die. The sermon will address the fate of Iran and Khorasan which have been linked throughout history.
CHILE

Jesse Dubin (1964-1966) reported in 2020 that a Peace Corps Volunteer Scholarship Award at SUNY College of Environmental Sciences and Forestry, Syracuse, NY has been funded by RPCV graduates of the College. It is presented annually. Interested parties may contact S. Scott Shannon, Dean of the Graduate School at sshannon@esf.edu.


DOMINICAN REPUBLIC

Lisa Peña (2003-2006) is Manager for the Hispanic Initiative for the Girl Scouts of Northeast Kansas and Northwest Missouri, and founder of Urban Hikes (Kansas City).
MOROCCO

Liz Fanning (1993-1995) is the founder and executive director of CorpsAfrica, modeled on Peace Corps and AmeriCorps programs. Started in 2011, the organization recruits individuals from African countries to work and live in high-poverty communities within their own country for one year, creating small-scale, high-impact projects that address barriers for economic growth and prosperity.
PHILIPPINES
Kristina Engstrom (1962-1964) is the author of the memoir I Had Servants Once: Peace Corps Volunteer Tell All, published in October 2019 by Levellers Press. The book recounts the author's experiences at educational improvement and disease prevention in various countries.
RWANDA

Mary Rose Rutikanga (2009-2011) served for the past five years as Senior Administrative Analyst in Calaveras County, CA. She was appointed Sonora City Administrator in February 2020. Her Peace Corps tenure included health services and community development.
SIERRA LEONE

Mary Onken (1964-1966) has been selected to referee the upcoming Olympic trials for track and field.

UKRAINE

Steven Boyd Saum (1994-1996) was appointed editor of NPCA's WorldView magazine. He will lead the editorial focus, solicit content from the Peace Corps community, write feature articles, incorporate advertising, and supervise the art director in developing and producing WorldView.
---
Please share your news with us! Email Peter Deekle.
---