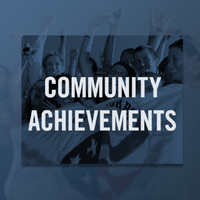 Community News - Achievements of RPCVs
Author: Peter Deekle
December 2018
AFGHANISTAN and PHILIPPINES
Barbara Settles (1989-1993) spoke at an Oregon community 2018 Veterans Day ceremony honoring both military veterans and Peace Corps volunteers for their service. Her remarks at the event distinguished between serving and helping others. Past president of Rogue Valley Veterans for Peace (RVVP) and Vietnam War veteran Dan Davis said Peace Corps vets should be honored along with warriors, as both have "suffered traumatic events" and worked for peace far from home.
ARMENIA
Shannon Priddy (2009-2011) worked with a non-governmental organization that helped women gain skills to obtain better jobs during her Peace Corps. Now she's the president of @UMWomen, an organization which mixes her love of service with her faith.
DOMINICAN REPUBLIC
Rosa Lopez (2011-2014), ACLU Community Engagement Policy Advocate, participated at a press conference on the occasion of the opening of the new office of the Southern California American Civil Liberties Union (SoCal ACLU). The affiliate, founded in 1923, was the first for the American Civil Liberties Union.
GUATEMALA, JAMAICA, KENYA
Florence Phillips (Guatemala, 1988-1989; Jamaica, 1990-1992; Kenya, 1997-1999) has been nominated for the 2018 CNN Hero of the Year award. As mentioned in previous news postings, she is founder of the English as a Second Language (ESL) In-Home Program of Northern Nevada. She created this program to increase literacy in adults, especially those who do not speak English at all, and those who speak English as a second language in order to improve the lives of those who struggle with literacy issues within their family, workplace, and community.
HONDURAS
Steve Moulds (1964-1966) has been named 2018 Napa Valley Grower of the Year by the California vineyards community. For Steve, the Peace Corps has played a central role in defining Moulds's relationship to civic duty. He has spent many years since his initial service volunteering in Orocuina, Honduras with a focus on rural community and agricultural development.
MALI
Richard Campbell (1994-1996) recently published River Stones Grow Plants. He founded in 2010 To Soil Less -- a family business to share gravel based growing techniques and practices with agriculture and gardening communities. Richard now hosts GeoAg Workshops and in mid-November 2018 convened a series of GeoAg sustainability and education workshops, teaching everyone from individuals to institutions how to grow plants in rocks for sustainment of families, communities and agricultural business operations.
MOROCCO
Jeffrey Aubuchon (2007-2008) is a librarian and educator with over ten years demonstrated experience in community engagement in the US and abroad. His 11th grade Advanced Placement U.S. history students at Oakmont Regional High School (Massachusetts) are applying their studies of the Marshall Plan, foreign aid, and the Peace Corps to pitch their United Way proposal in support of a Peace Corps volunteer creation of a multi-use intergenerational basketball court for a rural community in Costa Rica.
Justin Bibee (2014-2016) is a medical case manager for the Maui AIDS Foundation. He was also recently nominated by the Mayor of Maui to serve on the Commission on Children & Youth where he will advise the government on policies affecting our youth.
RWANDA, PERU, PHILIPPINES
On November 15, 2018, Caroline Burns (Rwanda, 2016-2018), Kevin Drumm (Peru, 2016-2018) and Su Rubinoff (Philippines, 1976-1978) – all University of Rhode Island alumni -- shared in a public panel their experiences as Peace Corps volunteers.
UKRAINE
The U.S. Senate voted this week to confirm Kathy Kraninger (1997-1999) as the new head of the Consumer Financial Protection Bureau. Kraninger was the associate director for general government at the Office of Management and Budget. She held prior jobs at the departments of Homeland Security and Transportation.
---
Please share your news with us! Email Peter Deekle.
---