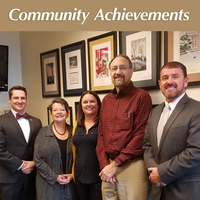 Community News - Achievements of RPCVs
Author: Peter Deekle (Iran 1968-1970)
April 2020


ECUADOR

Logan Marx (2015-2018) became the first Coverdell Fellow at the University of South Florida (USF) College of Nursing (Tampa) in 2019. His Coverdell service centers on a migrant farmworker community, working with elementary school-aged children. He is currently finishing his last semester in USF Nursing; he looks forward to providing critical care in an Intensive Care Unit setting.
THE GAMBIA

Joshua Johnson (2009-2011) developed a Facebook page for evacuated Peace Corps Volunteers. This private group now has over 9,000 members. Joshua served as an agroforestry Volunteer, working on food security as part of an NGO. He currently works at the State Department.
MALAWI
Jack Allison (1966-1969) is Professor Emeritus of Emergency Medical Care, College of Health & Human Sciences, Western Carolina University. He is also a singer/songwritter, having written over 100 songs and jingles, and recorded over 80 of those. Since 1967 he has raised $150,000 with his music, and he and his wife, Sue Wilson, have given away all the proceeds to various charitable organizations, including $30,000 to Malawian children who have been orphaned because their parents died of AIDS.

Paul Theroux (1963-1965) recalled during the current coronavirus pandemic the similarities, challenges, and lessons learned during the 1966 Ugandan curfew. His remarks are contained in The New York Times (March 30, 2020).
MICRONESIA

Roland Merullo (1979-1980) and his publisher, Peter Sarno, produced a serialized novel (Bring Me a Higher Love…) set in Sardinia and Naples with free access in this challenging "shelter in place" time of COVID-19. They are publishing 20 or so pages twice a week for eight weeks, one section on Sunday and one on Wednesday. In order to receive these emailed chapters, sign up for the Better Days Book Club.
PERU

Steve Vanderleest (2019) worked in water systems, sanitation, and hygiene in the high-country town of Cajabamba before his March 2020 evacuation due to the coronavirus pandemic. He has hopes of returning there within six months, to be able to serve the one-year extension to his two-year assignment.
---
Please share your news with us! Email Peter Deekle.
---