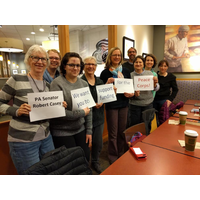 National Peace Corps Association's (NPCA) March 1st Capitol Hill Day of Action to support a stronger and better Peace Corps is booked to capacity!
But that's not all that is happening. Not even close.
Our National Days of Action (that's right, days) is designed for all Peace Corps supporters to come together at a key moment on the calendar to:
Make sure Peace Corps gets strong funding in the current (FY 2018) budget, as we also kick-off critical mobilization for FY 2019 Peace Corps and international affairs funding.

Make sure the best possible Peace Corps health and safety legislation passes in this 115th Congress by year's end.
Get Ready to Take Action!
If you don't do anything else for the rest of the year, now is the time to show your support for the Peace Corps. There are many ways to join the mobilization.
Right Now: Plan to Attend/Organize a Local Days of Action Event: Letter writing in Philadelphia, New Orleans, San Antonio and Honolulu. Meetings with lawmakers at their district offices in Buffalo, Jacksonville, Tuscaloosa and Kansas City. Visit our events page today to connect with a Days of Action activity in your area. Contact us if you want to organize an event in your area, or participate in Days of Action prep webinars in the coming days.
March 1st: As nearly 200 advocates and other supporters converge on Capitol Hill, back them up! Plan to visit our website to email or call your lawmakers urging positive action on the Peace Corps.
Ongoing: Our success requires your support! Make a donation of any amount to support NPCA's advocacy program.
And, Updated State Resources!
Has your Senator signed past Peace Corps funding letters? Is your Congressman/woman a co-sponsor of Peace Corps health/safety legislation? And, how many Peace Corps volunteers have served from your state since 1961? All of that information - and much, much more - can be found in our updated state resources!
---