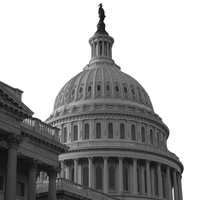 Legislation introduced by Joseph Kennedy III will enable a project years in the making to be seen through to completion. Senators Portman and Shaheen call on their colleagues to pass the bill as well. But funding for the Peace Corps Agency is still at risk for 2021, with the Senate having put forth a $51 million cut.
By Jonathan Pearson
After Dominican Republic Returned Peace Corps Volunteer Joseph Kennedy III (D-MA) was elected to the House of Representatives in 2012, one of the first pieces of legislation he introduced and passed provided congressional authorization for the creation of a Peace Corps Commemorative in Washington, D.C.On the afternoon of December 17, 2020 in the closing days of his fourth – and final – term in the House of Representatives, one of Congressman Kennedy's final accomplishments included securing House passage of a time extension that will allow work on the commemorative to move forward without interruption.
The Peace Corps Commemorative Work Extension Act (H.R. 7460) passed unanimously on a voice vote. Final passage of the legislation still needs Senate approval and a presidential signature to become law.
The Senate sponsors of companion legislation, Rob Portman (R-OH) and Jeanne Shaheen (D-NH) issued a press release after the House vote paying tribute to Peace Corps Volunteers and calling upon the Senate to pass the bill as well. "For more than 50 years, the Peace Corps has served as a powerful vehicle for volunteers who wish to use their talents to carry America's humanitarian values to other parts of the world," said Senator Portman. "I am pleased that this legislation was approved by the House today, and I urge my Senate colleagues to support it so that it can head to the President's desk for his signature."
Watch: "A lasting tribute" — Representative Ruben Gallego (D-AZ) and Representative Rob Wittman (R-VA) pay tribute to the service of Peace Corps Volunteers over 60 years and ask for passage of the bill.

The Peace Corps Commemorative Foundation has made great progress on this project, with design selection, site selection near the National Mall, and unanimous approval by the U.S. Commission of Fine Arts in September on the revised design concept.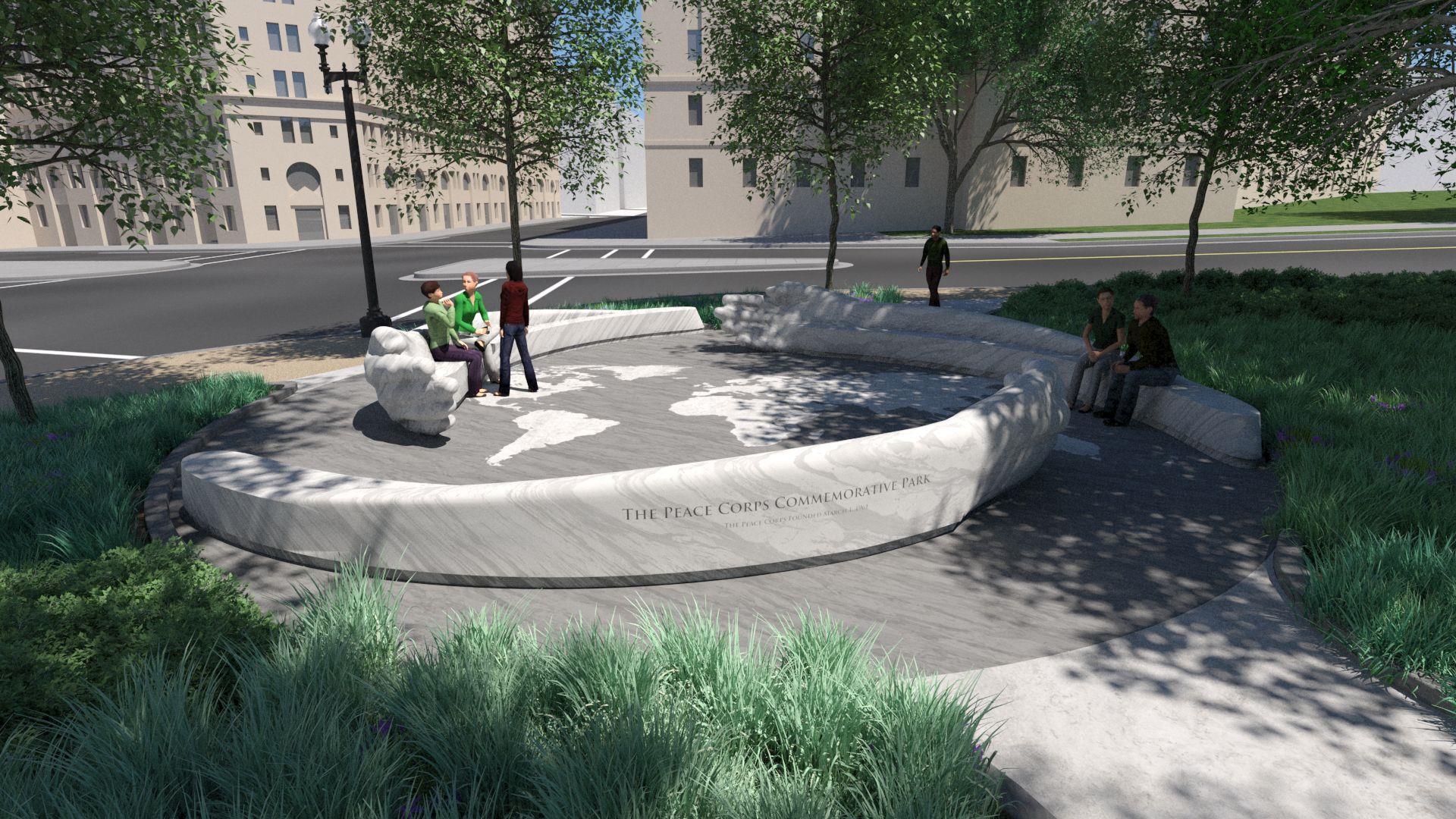 Rendering of Peace Corps Commemorative at Peace Corps Park. Courtesy of Peace Corps Commemorative Foundation.
"A lasting tribute to the legacy of the Peace Corps"
Congressman Kennedy's departure marks the end of an era. Since 1947, a Kennedy has had a seat in Congress with only two brief interruptions. The first, Joe Kennedy's great uncle John F. Kennedy, created the Peace Corps by executive order in March 1961.
Speaking on the House floor, Representative Rob Wittman (R-VA) noted that it is fitting for the Peace Corps Commemorative legislation to be sponsored by President Kennedy's grand-nephew. Representative Ruben Gallego (D-AZ) said the commemorative will serve as a "lasting tribute to the legacy of the Peace Corps."
On December 9, Joe Kennedy delivered his farewell remarks to the House and spoke of how it is the task of each generation to expand the meaning of "we" in the phrase "We the people," the opening words of the U.S. Constitution. "Our future is big and bright," Kennedy said, "bit it will take everything — and everyone — to reach it."
"Today the House unanimously passed a seven-year Commemorative authorization extension, among Rep. Kennedy's final bills before ending his House term," said Roger Lewis, President of the Peace Corps Commemorative Foundation. "Americans who have served as Volunteers, worked for the Peace Corps or share Peace Corps ideals and values, are profoundly grateful for Rep. Kennedy's steadfast commitment to and support of the Peace Corps and its historic mission."
Peace Corps Funding Under Threat
As the 116th Congress races to a close, Peace Corps-related activities in need of congressional action include advocating for full funding for the agency in 2021.
The current deadline for Congress to complete its work on a Fiscal Year 2021 spending plan is midnight Friday, December 18. There are signs Congress might pass another continuing resolution to extend that deadline into the weekend and possibly early next week. Among the many items at stake is Peace Corps' budget. While the House recommended level funding of $410.5 million, the Senate put forth a $359 million allocation – a $51 million cut.
Make your voices heard with your lawmakers to urge them to support level funding for Peace Corps.
Peace Corps Redeployment and Evacuees
High on the congressional priority list for passage each year is the National Defense Authorization Act (NDAA). Included in the 4,500 page document that has passed both chambers is reporting requirements pertaining to Peace Corps redeployment and Volunteers who were evacuated earlier in 2020.
Introduced by Congressman Dean Phillips (D-MN), the legislation calls for a report to Congress from Peace Corps three months after bill passage on efforts of the agency to:
Provide an update on offering a redeployed Peace Corps assignment to all evacuees who wish to continue service;

Obtain approval from countries of service to allow the return of Peace Corps Volunteers;

Provide adequate health and safety measures including COVID-19 contingency plans; and

Identify any need for additional appropriations or new statutory authorities and the changes in global conditions that would be necessary to achieve the goal of safely enrolling 7,300 Peace Corps Volunteers during the one-year period beginning on the date on which Peace Corps operations resume.
President Trump has indicated that he will veto the NDAA on issues not related to Peace Corps. The president has until December 23 to do so. Congress is contemplating strategies to overturn the veto should it be issued.

---
Last Updated December 18, 2020 at 4 PM. Watch this story for updates.
---