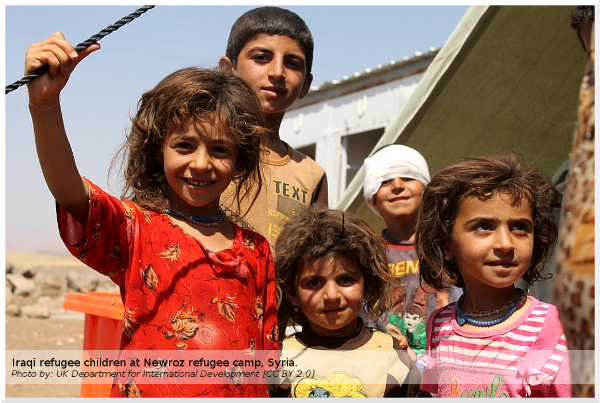 By Patricia Nyhan
At no time in history have so many refugees wandered the earth or languished in makeshift camps. On June 20, we have a chance to speak up for them with a collective voice, joining millions of people around the globe on World Refugee Day.
Since its creation in 2000 by the United Nations, more than 100 countries have welcomed the annual commemoration to focus attention on the plight of refugees. Of the unprecedented 65 million people now forcibly displaced by conflict and persecution, 21 million are refugees, unable to return to their country. The U.S. takes in only a fraction of them, compared to other countries.
As our nation's response to the refugee crisis hovers in the twin limbos of an appeal to the Supreme Court on the travel ban and the Trump administration's proposed budget cutbacks in international aid, World Refugee Day offers a timely opportunity to advocate for refugees.
Support Refugees Worldwide
Stand with the U.N.'s refugee agency, UNHCR, by signing its petition #With Refugees. The petition has drawn more than 1.5 million supporters and will be launched on June 20, calling governments to work together and do their fair share for refugees. It asks governments to ensure every refugee family has somewhere safe to live, every refugee child gets an education, and every refugee can work or learn new skills to make a positive contribution to their community. www.unhcr.org/refugeeday/
UNHCR remains committed to bringing humanitarian aid to all displaced persons, no matter how challenging -- in Syria, for example, where the war only worsens. The agency provides a network of community centers offering child protection, education and health services in the region's hosting countries. But they are desperately underfunded.
Stand with Refugees in the U.S.
To celebrate World Refugee Day close to home, check out the UNHCR website's Events page for a map of the U.S. showing events from mid-June to early July. Find one near you at www.unhcr.org/refugeeday/us/events/
Many other refugee organizations are hosting World Refugee Day activities, from house parties to concerts to film festivals to soccer tournaments. You can find out more about these organizations (and about refugee issues in general) from NPCA's affiliate group Peace Corps Community for the Support of Refugees, particularly their pages on Partners and Refugee Organizations. Celebrities and civic organizations across the U.S. will also mark the event to honor refugees' strength and courage.
Get together with your refugee neighbors for this global celebration. Volunteer for a local event. Show support by inviting a refugee family to your home or placing a welcoming sign on your lawn. Thank them for their contributions to your community.
With President Trump's travel ban on appeal to the Supreme Court, the main focus of refugee advocacy currently is the administration's 2018 budget request for deep cuts to programs affecting refugees. Two leading refugee resettlement groups, LIRS (Lutheran Immigration and Refugee Service) and HIAS, the Jewish refugee support organization, are marshaling appeals to Congress. Both condemn the cuts and urge raising the number of refugees to be resettled next year. To participate in this campaign, visit www.LIRS.org and www.hias.org.
Spread the word about World Refugee Day. Use your social media accounts to raise awareness about refugees. Then go out and celebrate with them.
About the Author: Patricia Nyhan is a journalist, author, and official blogger for Peace Corps Community for the Support of Refugees. Pat served as a Peace Corps Volunteer in Afghanistan.
---