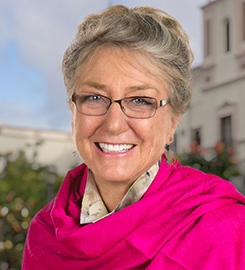 NPCA's affiliate group Women of Peace Corps Legacy is pleased to present Dr. Dee Aker with the Deborah Harding Women of Achievement Award, which honors a woman or group of women with a Peace Corps connection whose contributions have made a significant difference in the lives of women and girls around the world.
Dee Aker, PhD, is a psychological anthropologist and conflict resolution professional with over 40 years of experience working in peacebuilding and conflict transformation in international settings. Part of the leadership of the Joan B. Kroc Institute for Peace and Justice (IPJ) since its inception in 2000 through 2016, Aker created the Women PeaceMakers Program (WPM), which documents the stories of women who build peace in conflict or post conflict; the WorldLink Program, which connects high school youth from Mexico and the United States to global affairs; and the 15-year Nepal Peacebuilding Initiative, which worked to support local Nepal people in ending conflict and building peace in post-civil-war challenges.
Aker has extensive experience in international higher education — including senior administration, curriculum development and teaching — in Kenya, England and the U.S. In her work with world-renowned psychologist Carl Rogers she joined conflict transformation efforts in Europe and Central America. As a media and print journalist, Aker produced and hosted a television series (consisting of more than 230 programs over six years) interviewing women leaders and survivors of injustice from around the world, she had a monthly column, on rights and gender concerns in the Women's Times, and free-lanced for papers such as the Chicago Tribune. Participation as press and NGO delegate to the Fourth World Conference on Women inspired Aker to promote ten major women's conferences at the University of San Diego in conjunction with the WPM Program, including a Global Court of Accountability in 2005.
Aker was a Peace Corps volunteer in Colombia in the Corps' early years, which she credits as the impetus to be ever involved in efforts to secure human rights and justice and, especially, encourage and acknowledge the role women have in peacebuilding that is so often ignored or over-looked. She has since worked across the globe to support the inclusion of the voices of women, youth and other marginalized communities, in discussions and decisions related to conflict resolution and sustainable peace — including designing and leading participatory trainings/workshops in communications, negotiations, skills-building and leadership. She believes strongly in participatory methodologies and a "whole community" approach to conflict transformation.
Aker's honors include the 2015 Eleanor Roosevelt Human Rights Award, from the San Diego Chapter of the United Nations Association and induction to the San Diego Women's Hall of Fame in 2014. She has received numerous recognitions from the University of San Diego for her service over the years, including the 2015 International Impact Award. In 2016 Aker was inducted into the United States International University-Africa's Hall of History for service on the faculty and Vice-Chancellor from 1979 to 1984. She was the first Phillip Brooks House Fellow at Harvard University in 2007 to "share a distinguished public service career" with students and the university's Center for Public Interest.
Acting Peace Corps Director Sheila Crowley will present Dr. Aker with the award on Saturday, August 5, 2017 at Peace Corps Connect, the premier annual gathering of the Peace Corps community.

---