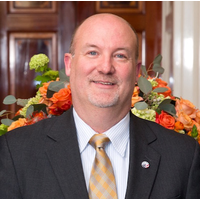 President John F. Kennedy said, "Efforts and courage are not enough without purpose and direction." Approaching the 40th anniversary of our 1979 founding, National Peace Corps Association has firmly established its purpose and direction as a catalyst for global social impact by the Peace Corps community. Together we are changing lives around the world.
We're ensuring the future of the Peace Corps.
Despite the administration's proposed cuts to Peace Corps' budget, we maintained level funding for the agency at $410 million for fiscal years 2018 and 2019. At the same time, we successfully championed key reform legislation that improves healthcare and safety for Peace Corps Volunteers.
This happened because we mobilized nearly 30,000 meetings, calls and letters from the Peace Corps community to members of Congress. Your support enabled us to conduct research, prepare materials, modernize our technology, host events, and travel around the U.S. to hold advocacy training and join constituent meetings with legislators.
Our work is not finished. Any proposed cuts to the International Affairs budget and reductions in Peace Corps' fiscal year 2020 budget will require Congress to restore funding for these programs. And further reforms are needed at the agency - including increasing the disability payments for RPCVs who come home with service- related illness and injuries.
It won't be easy. The midterm elections dramatically alter the political landscape. With hundreds of new lawmakers and their staff coming to Capitol Hill, we'll have our work cut out for us to educate Capitol Hill's newcomers on Peace Corps issues. For us, that means an urgent need for increased funding for more staff, advocacy events, travel, and leave-behind materials.
We're empowering our Peace Corps community to "bring the world home."
Our community-driven approach enables 180 NPCA affiliate groups to empower their members to act on Peace Corps values across the country. Our vast network is a tremendous force for good to resettle refugees, clean up park trails, speak in schools, and advocate for public policy. Our community represents the best of America.
NPCA is building the capacity of these affiliate groups to do what they do best—champion causes. We provide affiliate groups with the support and services they need to thrive: access to our modern community-builder membership platform, group leadership forums and webinars, and small grants that serve to heighten our grassroots community engagement.
In an increasingly divided America, now is the time to act on our Peace Corps values. NPCA must expand support to our community members and new affiliate groups to better enable them to champion the Third Goal. That means hiring dedicated staff to work with affiliate groups, holding more training webinars and events, and making more capacity- building grants.
We're transforming lives by investing in our global community.
NPCA's financial and technical support of PCV- and RPCV-led projects positively impacted more than 546,000 lives in 2017. This June, jointly with Water Charity, we signed a donor agreement with Peace Corps, committing to raise and invest $1 million in Volunteers' water and sanitation projects. Meanwhile, in Liberia, the NPCA-Water Charity partnership is on track to bring safe water to every person by 2020. Another partnership with TCP Global is helping provide micro-loans to families around the world.
Our strategic partnerships provide more opportunities for our Peace Corps community to re-deploy on short-term international assignments. We've sent dozens of RPCVs to Indonesia, Thailand, Peru, Colombia, Guatemala and Mexico to provide capacity-building assistance to local NGOs founded or led by RPCVs.
In 2019 we'll send RPCVs to Togo and The Gambia to implement our new Water for Everyone initiative, working with local organizations and our partner, Water for Charity. We will expand our programs to deploy RPCVs domestically and internationally on short-term assignments or when natural disasters arise.
We are a community of impact. At the center of this vibrant community, NPCA exists so that your mission may be accomplished. Thank you for all the good work you do around the world.
Please consider making a special gift to the only existing global social impact organization founded and driven solely by the Peace Corps community.
Your tax-deductible contribution will enable NPCA to continue to inform, connect and engage our Peace Corps community in support of the causes
we care about. Donate online at www. rpcv.org or mail a check to my attention at 1900 L Street, NW Suite 610, Washington, DC 20036.
P.S. If you are 70 1/2 or older, you may allocate your IRA required minimum distribution (RMD) to NPCA as a qualified 501 (c) 3 organization, thereby reducing your tax burden.
Written by NPCA president Glenn Blumhorst. This story was first published in WorldView magazine's Winter 2018 issue.
---