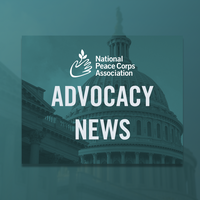 For the fourth consecutive year in June, NPCA will hold a Peace Corps Health Justice Awareness Day.
And, for the second consecutive year, this day will include Peace Corps community advocacy on Capitol Hill.
Our 2018 awareness day will be Thursday, June 28th. As we prepare for advocates to join us on Capitol Hill, health and safety legislation continues to advance in Congress. While the Senate passed its health/safety legislation earlier this year, legislation in the House of Representatives is expected to go before the Foreign Affairs Committee this week.
Register Now for Capitol Hill Advocacy
Our June 28th Capitol Hill advocacy will begin at 11 AM and run throughout the day. Registration is now open. Sign up here and make plans to join us.
---