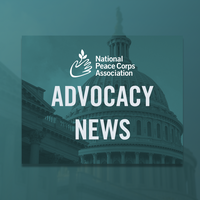 As we prepare for a June 28th Peace Corps Health Justice Capitol Hill advocacy day (click here to register), pending health and safety legislation took another important step forward, but not without a setback.
Thursday morning, the House Foreign Affairs Committee (HFAC) unanimously approved the latest version of the legislation (H.R. 2259). The bi-partisan legislation was introduced by Congressman Ted Poe (R-TX) and RPCV Congressman Joe Kennedy (D-MA).
The next stop for the legislation is expected to be the floor of the House of Representatives for a final vote by the chamber. In March, the Senate gave unanimous approval to its version of this legislation.
The HFAC vote was on an amended bill Congressmen Poe presented to the committee. Several differences remain between Senate and House bills and will require further negotiation.
Similarities and Differences
There is significant alignment in many provisions in the Senate and House bills dealing with continued or new reforms to address sexual assault and other forms of violence against serving Peace Corps volunteers. There is also similar language to address reforms to further improve medical care for serving volunteers.
As the House legislation now stands, significant changes were made to proposed reforms to support Returned Peace Corps Volunteers (RPCVs) who are back in the U.S. confronting injuries or illness related to their service. Perhaps the most significant change is the removal of a provision originally proposed and fought for by the affiliate group Health Justice for Peace Corps Volunteers, to increase the low level of financial support for individuals whose short or long term injuries or illness render them eligible for workers' compensation.
With some opposition among other House members due to costs related to the workers' compensation provision, Congressman Poe expressed his disappointment in removing that portion of the bill. As he noted in his submitted remarks to the committee, "I fought long and hard to increase the disability payment provided to disabled returned volunteers so they can make ends meet. I hope that this provision will one day become law. However, until then, the (other) improvements in this bill are essential and valuable for our angels abroad."
Read this press release with comments from Congressmen Poe and Kennedy following today's HFAC action.
A bi-partisan group of HFAC members took time during the committee meeting to express support the the Peace Corps, its volunteers and various parts of the House legislation. They included HFAC Chairman Ed Royce (R-CA) and Ranking Member Eliot Engel (D-NY), Brad Sherman (D-CA, who noted his wife was a volunteer in Togo who needed medical care and faced an interruption in her service), Gerry Connolly (D-VA), Joe Wilson (R-SC) and Tom Garrett (R-VA).
A bi-partisan group of sixty House Representatives are co-sponsors of H.R. 2259.
---