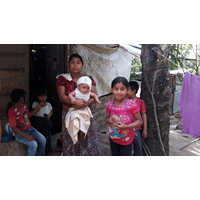 Amplifying our Global Development Impact
Providing returned Peace Corps volunteers (RPCVs) and former Peace Corps staff the opportunity for redeployment is a priority for NPCA. Cultural Agility Leadership Lab (CALL) is a unique strategic partnership between NPCA and Northeastern University's D'Amore-McKim School of Business that matches RPCVs with skills-based volunteers from American corporations, to deliver technical assistance to local NGOs, while also enhancing the cultural agility of the corporate volunteers. Through CALL, corporate-sponsored volunteers and RPCVs work together to be a high-impact force for good.

Three RPCVs - Carla Briceno (Guatemala), Anne Pellicciotto (Mexico), and Emily McGinnis (Peru) - returned in October from NPCA assignments in Guatemala, Mexico and Peru, respectively. They served as cultural coaches and technical counterparts to Johnson & Johnson corporate volunteer teams. Their work focused on strengthening NGO capacity in governance, strategic and business planning, geographic information systems, communications, and supply chain management. The partnering NGOs were Partners for Surgery, Partners in Health, and INMED, who work in surgical care, primary care services, and deworming programs.

Our local NGO partner in Guatemala, Asociacion Compañeros para la Cirugía (ACPC) - Partners for Surgery - is a Peace Corps success story in itself. In 2001, Guatemala RPCV Todd Peterson (1997-99) and his parent founded ACPC to serve as a bridge between patients in need of surgical care in remote communities and the international volunteer triage and surgical teams that go to Guatemala to help the impoverished.

The CALL partnership excited the cultural coaches. "I'm tremendously impressed and inspired by the work that ACPC is doing to change lives in Guatemala," remarked Carla upon her return from deployment. "I feel like I made a meaningful contribution to ACPC by not only coaching Johnson & Johnson corporate volunteer Veronica Baltazar, but also through the transfer of my own business acumen and technical expertise. Veronica and I are confident that, with a strong marketing plan and strategy, ACPC will continue to enhance its capacity to promote a very compelling value proposition and ultimately achieve financial sustainability and scaled-up operations in response to the overwhelming need for their services."
In a very short time frame, the volunteers learned how to work with host country nationals, understand the organizations' needs, and assist with their challenges. "Emily, our cultural coach, helped translate for me which did help alieve my fears [sic]," Anisha Mohan, Johnson & Johnson Analyst, said about the relief the RPCV provided during her first week in Peru. "I have a much better and more clear understanding of what I am doing and why I am doing it and because of that have more confidence that I will be able to help INMED in a meaningful way."
Emily stated that, "I spent my time filling in knowledge gaps about local institutions, social programs, and government agencies and sharing insights about Peruvian culture with the volunteers. I felt humbled and proud to be able to share so much about Peruvian culture, and to continue to serve, albeit indirectly, a country that is so near and dear to my heart. I am very thankful to NPCA for affording me this opportunity, and feel honored to have been able to contribute to such an incredible program. It was very fulfilling and inspiring and I am so grateful to have met all the amazing folks from both Johnson & Johnson and INMED who are truly special people doing critical and impactful work to benefit the children of Peru."
NPCA envisions expanding the program to eventually field hundreds of corporate volunteers and RPCV cultural coaches in multiple countries, particularly linking them to NGOs where PCVs or RPCVs are involved.
For more information, please contact our International Programs division: CALLCoordinator@PeaceCorpsConnect.org.
---