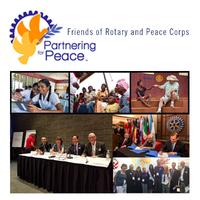 Did you know that a group of RPCV Rotarians in Denver, Colorado are the ones who sparked the interest for a Peace Corps-Rotary partnership? Through their leadership, a formal partnership was established at the highest levels in 2014. This community of RPCV Rotarians continues to grow, and this year they formed an official NPCA affiliate group: Partnering for Peace - Friends of Rotary and Peace Corps.
To kick off Peace Corps Connect on Friday, August 4, 2017, Partnering for Peace held a pre-conference workshop open to the whole community. The workshop focused on building collaborative partnerships between Rotary clubs, NPCA Affiliate Groups, and Peace Corps, whether in the U.S. or in Peace Corps countries. The event also featured past and on-going projects and built on strengthening future collaborations.
As one of our newest affiliate groups, Partnering for Peace is already increasing our collective impact by bringing together the Peace Corps community and Rotary International to bring clean water to the Dominican Republic, computers to classrooms in Senegal, books to Botswana and clean cookstoves to Vanuatu.
---
Explore our thriving community of NPCA Affiliate Groups.
Join NPCA and any of our affiliate groups.
Learn more about Partnering for Peace.
---