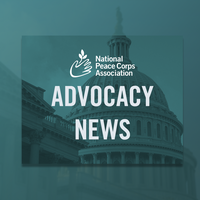 Earlier today, the White House announced President Trump signed into law the Sam Farr and Nick Castle Peace Corps Reform Act of 2018.
Passed unanimously by the Senate and House of Representatives, this law is designed to provide a number of improvements to Peace Corps operations, including mandating strengthened criteria in the hiring of overseas medical personnel, reauthorization and new provisions to further address agency actions to support volunteers victimized by sexual assault or other forms of violence, and further transparency to assist individuals in making informed decisions about their preferences for Peace Corps service.
"I want to thank the president for signing this important legislation that will improve the safety and well-being for current and future Peace Corps Volunteers," said NPCA President and CEO Glenn Blumhorst. "While there is more work that remains to bring about further reforms, this bi-partisan law is a strong step forward."
Follow this link for more details about this new law, contained in a post following Senate passage of the legislation on September 24th.
---