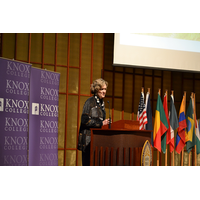 President Trump has nominated Josephine "Jody" Olsen to become the next Peace Corps Director.
If confirmed by the Senate, Olsen would become the 20th person to lead the agency.
Olsen served as a Peace Corps Volunteer in Tunisia from 1966 - 1968 and was Togo Country Director from 1979 - 1981. She was nominated by President George W. Bush to serve as Deputy Director of the agency and later served as Acting Director.
"We applaud President Trump for nominating Dr. Jody Olsen to lead the Peace Corps," said National Peace Corps Association President and CEO Glenn Blumhorst. "As a returned volunteer, country director, acting director for the agency—and highly engaged member in the Peace Corps community—Jody knows the Peace Corps experience and the people who have served as well as anyone. Jody's commitment to education and social work and her decades of leadership are a perfect match for a 21st-century Peace Corps poised to grow and improve. We encourage Chairman Corker and his Senate colleagues to move swiftly to confirm Jody as next director. America and the world need the Peace Corps now more than ever. We're excited Jody has the opportunity to lead it."
Click here to read the White House announcement on this nomination.
A co-founder of the NPCA affiliate Women of Peace Corps Legacy, Olsen was a featured contributor in the Winter 2017 issue of WorldView magazine, writing about the rise of women in leadership roles in the agency and in international development.
"Today 62 percent of Peace Corps' 7,300 volunteers are women," Olsen wrote. "Over the years, each group of female volunteers has motivated the next group, and each generation to the next. This extraordinary group of approximately 125,000 females spanning 56 years of service are giving back to families, communities, states, and nations in ways not possible without the Peace Corps experience, one contribution at a time.
"Today, women's roles are stronger than ever, particularly here in the United States. Is there a need for further attention of Peace Corps women on behalf of women and girls? Yes. The issues faced by women and girls still need our support…Some of the issues might look overwhelming, but the Peace Corps experience has taught us to work with whatever situation we find, a person, a family, or community."
Click here to see the list of all previous Peace Corps Directors.
---