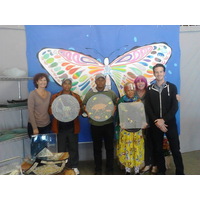 Three San artists from D'Kar, Botswana, recently traveled to the USA for the first time for an exhibit and sale of their unique, colorful folk art. The artists—Jan Tcega John, Xhoma Simon, Ndodonyane Ditsheko-- and the Kuru Art Director Maude Brown, spent 11 days in Santa Cruz, CA as guests of the Exhibit organizer, Peggy Flynn, RPCV from Botswana (2013-2016).
Fifteen oil paintings were sold via live and silent auctions; 37 original linocuts were sold, and a 7-day safari for two in the Okavango Delta of Botswana was auctioned as were three Annieglass© plates that were hand painted by the San artists a few days before the event. Proceeds from the event (estimated at $25,000) go directly to the Kuru Art Project for basic support of the participating artists, for art supplies, and for health education workshops for San youth.
In addition to the art event, the San guests were taken to the Monterey Bay Aquarium where they were introduced to marine life and got to touch baby sting rays and hold barnacles. They also visited a family apple farm and watched people surfing and paddle boarding on the Monterey Bay. They were honored guests at several pot lucks, and were sent home with over 20 lbs of scarves and hats to share with family and friends in D'Kar.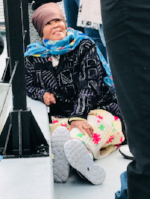 Over 155 people attended the event at the Museum of Art & History in Santa Cruz, including the Honorary Consul General of Botswana Charles Frankel and his wife from San Francisco, the Chair of the Santa Cruz County Board of Supervisors John Leopold, and Santa Cruz City Councilwoman Richelle Naroyan; the latter two presented the San artists and Maude with proclamations honoring their visit. Other honored guests included John Laird, California Secretary of Natural Resources, and Leanne Van der Weyde of Cheetah Conservation of Botswana in Maun.
While serving in Botswana, Peggy organized two art auctions for the Kuru Art Project at the home of US Ambassador to Botswana, Earl Miller. She promised the artists she would try to continue championing their art once she returned home. This exhibit and sale in Santa Cruz is the first of many that Peggy is planning in America.
Funds were raised from RPCVs and their families and friends from throughout the USA, as well as others, and from the National Peace Corps Association's Community Fund. .
---