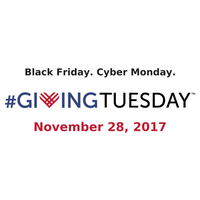 National Peace Corps Association (NPCA) is announcing a special #GivingTuesday campaign. Following Thanksgiving celebrations, Black Friday shopping, and Cyber Monday deals, #GivingTuesday is the day we turn our attention toward supporting our community and making the world a better place.
National Peace Corps Association hopes to enlist volunteer fundraisers to champion our work this #GivingTuesday. #GivingTuesday Champions pledge to get 10 people to each donate $10 or more to NPCA's advocacy fund. Affiliate Groups can become Champions by encouraging at least 10 members to reach out to their networks and ask people to donate at least $10.

WHY is NPCA doing this campaign? Well, if we want the Peace Corps to remain strong and vibrant, we need to scale up our advocacy work. This year's proposed cut of $12 million to the Peace Corps budget demonstrated that a strong advocacy campaign to the White House and Congress is essential to protect the Peace Corps. NPCA is the only organization that represents our community's interests on Capitol Hill all year long. We need to scale up our capacity to successfully advocate for a robust Peace Corps budget, toward reaching 10,000 serving Volunteers, and supporting the health and safety legislation we want passed in 2018! With additional funding, NPCA will be able to hold a second advocacy day on the Hill, build our network of advocacy coordinators across the country, and offer better tools to help our community reach out to their Members of Congress.

Our Goal: Raise $35,000 on #GivingTuesday to support NPCA's advocacy efforts.
If you would like to donate or become a champion for NPCA, it's as easy as 1-2-3.
1. Email Rachel Mannino, Director of Development, at rachel@peacecorpsconnect.org and tell her you want to be a Champion for NPCA this #GivingTuesday.
2. Keep an eye out for follow-up emails and easy-to-use tools to help you fundraise.
3. Share this email, or create your own, to spread the word about our campaign to your fellow RPCVs and affiliate group members!
Continue supporting the causes that mean the most to you here.
---