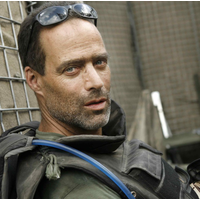 Childhood friends and distinguished authors Sebastian Junger and Sarah Chayes traveled to Morocco together when they were 18. While there, they met a couple serving as Peace Corps Volunteers and their lives haven't been the same since.
On Saturday, September 24, 2016, Mr. Junger and Ms. Chayes will reunite on the plenary stage of the National Peace Corps Association's (NPCA) Peace Corps Connect conference in Washington, D.C. Author and documentarian Sebastian Junger will join Sarah Chayes (RPCV Morocco), senior associate at the Carnegie Endowment for International Peace, to reflect on their decades of experiences with war, peace and community — and why they think the Peace Corps is needed now more than ever.
In print and documentary form, Mr. Junger has explored firsthand the human experience through war and tragedy in works such as the bestselling Perfect Storm and War, and the Oscar-nominated documentary Restrepo. Mr. Junger's most recent book, Tribe, explores the cohesive community societies gain when they value shared experiences and responsibilities, and what is lost when they don't.
After several years covering conflict as NPR's Paris correspondent, including in Kosovo and in Afghanistan, Ms. Chayes put down her microphone to play an active part in rebuilding that wartorn country. Among other initiatives, she launched a manufacturing cooperative where men and women produce fine skincare products from local botanicals. Ms. Chayes later served as special assistant to Chairman of the Joint Chiefs of Staff Admiral Mike Mullen. She is the author most recently of Thieves of State: Why Corruption Threatens Global Security, winner of the LA Times Book Prize.
NPCA will welcome Mr. Junger and Ms. Chayes at George Washington University's Lisner Auditorium during the afternoon plenary session of the annual Peace Corps Connect conference. The five day event will explore how, through increased collaboration, attendees and community members can continue to champion Peace Corps ideals. This year's event also celebrates 55 years of Peace Corps and the limitless potential of the community to continue to create change.
See the full program and register for the conference.
---