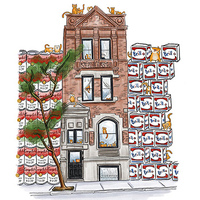 Art Hiding in New York
AN ILLUSTRATED GUIDE TO THE CITY'S SECRET MASTERPIECES
By Lori Zimmer | Illustrated by Maria Krasinski
Running Press
Reviewed by Steven Boyd Saum
In this compendium of delight, illustrator Maria Krasinski brings playful color and a lightness of touch to an exploration of art and artists whose work populates dedicated spaces and so much more in Manhattan. She teams up with writer Lori Zimmer to traverse unexpected places and limn faces of the artists.
Works range from Alexander Calder's "Janey Waney" in Gramercy Park to Francoise Schein's "Subway Map Floating on a New York Sidewalk" in Soho to Leo Villareal's ceiling installation "Hive" in the subway, at Bleecker and Lafayette. Chapters invite you to "Dine Amongst the Masters," and to discover "Artists' Homes and Haunts" and "Architectural Interventions."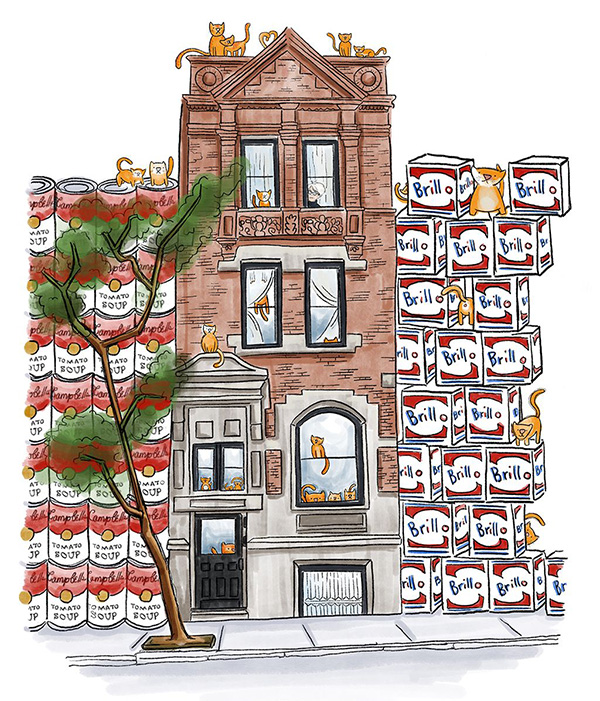 Andy Warhol's Town House and Cats. He and his mother once lived here with 25 felines — all named Sam. Illustration by Maria Krasinski
Krasinski served as a Volunteer in Georgia 2017–18 and is now managing director for News Decoder, a global news service and education startup for youth that is based in Paris. That's where her fans can head later this fall, when Art Hiding in Paris is due out.
Does Krasinski's name ring a buzzer — er bell? "You might have seen me get steamrolled by Amy Schneider on Jeopardy!" she says. Indeed, she took second in her appearance on the game show in 2022.
This review appears in the Spring/Summer 2022 edition of WorldView magazine.
---
Steven Boyd Saum is the editor of WorldView.
---