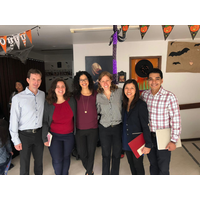 CALL (Cultural Agility Leadership Lab) is an exclusive partnership between Northeastern University's D'Amore-McKim School of Business and National Peace Corps Association, providing a turnkey solution for corporate-sponsored international volunteerism (ICV) and pro bono advisor programs.
By Jenna Glickman, RPCV Colombia 2012-15
In October, I had the incredible opportunity to participate in a third goal experience that involved sharing my host country culture with a group of international corporate volunteers. Better yet, this activity was a week-long immersion in country! This meant traveling back to my country of service, Colombia, for the first time since my COS, to be a cultural coach with the Cultural Agility Leadership Lab (CALL), in partnership with National Peace Corps Association.

The CALL model is different than most corporate volunteering programs because it doesn't just match volunteers with a nonprofit and send them on their way. CALL goes above and beyond and provides volunteers with technical and cultural support before and during the program, kind of like a mini PST. In this case, the volunteers were from Johnson & Johnson, and they traveled to Bogota for a month to provide expertise to Operation Smile Colombia. While Operation Smile is a well-known international NGO, the Colombia office is mostly self-run with staff who are experts at their mission: providing holistic services to children and their families with cleft conditions. The Colombia office asked for corporate guidance from J&J with the management and operations of the organization. Each J&J volunteer had an NGO counterpart with whom they worked directly on refining their strategic plan.

My role as a cultural coach was to accompany the J&J volunteers for the first week in order to acclimate them to Colombian culture and customs, particularly in a professional setting. Inspired by my own sessions in PST and the famous Culture Matters book, I facilitated some cultural integration trainings and interactive discussions with the employees as well as the NGO staff so everyone could get to know each other better and find a good working style. However, my favorite part of the experience was planning the nighttime and weekend excursions around the city! We did a mix of typical touristy activities as well as a few that were off the beaten path. One night we went out for salchipapas, a Colombian street food staple involving cut up hot dogs, French fries, shredded lettuce, mayo, and pineapple sauce - delicious! Another night we played tejo, an extremely lively game that involves throwing rocks into mud pits with explosives (yes, really!). This cohort knew how to work hard and have a great time, estilo Colombiano!

The work that the J&J volunteers did was definitely in the spirit of Peace Corps service. The four employees in the cohort all had diverse background and expertise, but were extremely proactive and flexible -- great attributes of future PCVs. Watching their final presentation, where they were confidently presenting their findings and recommendations to Operation Smile Colombia, evoked a feeling of pride, even though I was merely playing a supporting role in their journey. I am thrilled to have shared and enjoyed a piece of Colombian culture with some new amigos.
----------
If you'd like NPCA to be able to provide more opportunities for RPCVs like Jenna (including yourself!) to be able to get back to their country service in a meaningful way, please consider supporting NPCA with a donation.
---