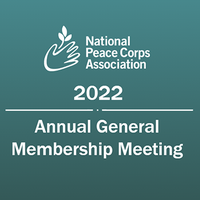 On September 24, National Peace Corps Association hosted its

Annual General Membership Meeting online

. Here are videos and resources from the event.
By NPCA Staff
On September 24, NPCA was honored to host more than 300 members of the Peace Corps community for the 2022 Annual General Membership Meeting (AGMM). It was an opportunity to celebrate, share updates from staff and our new board chair, John Lee Evans, and, in breakout rooms, discuss and reflect. And it was an opportunity to bring together so many individuals who care deeply about NPCA's mission of encouraging and celebrating a lifelong commitment to Peace Corps ideals.
During our virtual meeting, we showcased key initiatives that NPCA has implemented to support the Peace Corps community. We honored the winners of the Loret Miller Ruppe Award for Community Service: the RPCV Alliance for Ukraine, the Friends of Moldova, and Partnering for Peace. Their work supporting refugees from Ukraine and helping those in harm's way shows how time and again Volunteers show a commitment to Peace Corps ideals in a time of crisis. We also celebrated the recipients of the Women of Peace Corps Legacy Awards, Jaynice del Rosario and Dr. Therese P. Castillo.
We heard a Peace Corps agency update from Rebecca Gong Sharp, who directs programs in Europe, the Mediterranean, and Asia. One ringing message for all of us: After two years without Volunteers serving overseas, they're returning to dozens of countries — and Peace Corps needs your help in recruiting the next generation of Volunteers to carry on the work of building peace and friendship.
Valerie Young, the advocacy coordinator at the Maine Peace Corps Association, shared with audience members her experience on working with Congress to support the Peace Corps — especially as, this year, we're working to pass the Peace Corps Reauthorization Act — the most sweeping Peace Corps legislation in a generation.
---

Annual General Membership Meeting 2022 [Full Recording]
President's Report Featuring Dan Baker, NPCA Interim President and CEO

Awards presentations: Loret Miller Ruppe Award for Outstanding Community Service | Women of Peace Corps Legacy Award
AGMM sessions, closing keynote, and adjournment: Welcome Remarks with John Lee Evans, NPCA Board Chair | Advocacy: Peace Corps 2.0 | Peace Corps Keynote Speaker: Rebecca Gong Sharp | Closing and Adjournment
Some Special Thanks
All of us at NPCA share a special appreciation for the work by Ruby Jauregui, Jewel Jauregui, and Robin Horwitz from Interpreter Now for providing ASL interpretation services during the meeting, especially on short notice. We should note that the ASL interpretation was unfortunately not captured in the Zoom recordings; in future meetings we're taking steps to ensure it will be. In the videos we've posted, closed captioning is available on YouTube.
Share your feedback
We welcome and invite you to share your feedback as we prepare for next year's meeting by completing our 2022 AGMM Survey. Your insight is vital to ensuring that we continue to meet the needs of our membership.

---
Resources mentioned during AGMM:
---