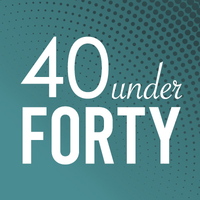 To celebrate National Peace Corps Association's 40th anniversary, we recognize the extraordinary achievements of 40 individuals we believe exemplify a new generation of leadership within the Peace Corps community and beyond, and we are proud to share their stories.
Diverse as the countries they served as Volunteers, you will find politicians, entrepreneurs, film makers, professors, diplomats, and more among our honorees. They have learned many different languages. Some speak legal-ese in courtrooms, while others communicate with new forms of artificial intelligence through computer coding. For a community sometimes stereotyped as liberal, a notable few speak fluent Republican. Yet for all of their differences in profession, perspective, and political persuasion, they each speak the language of service toward a greater good. They are connected by a shared experience in practical idealism sometimes difficult to explain, and many have chosen to share how their service in the Peace Corps inspired their career ambitions.
In an era increasingly defined by growing divides and existential global challenges, join us in celebrating the rising stars working in good faith towards the greater good.

"40 Under 40" was produced by William Burriss, a former NPCA staff member who served in Morocco from 2016 to 2018 and now works in Congressional relations at the Federal Emergency Management Agency.
---