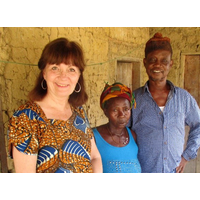 We are proud to announce that the 2018 Sargent Shriver Award for Distinguished Humanitarian Service will go to Arlene Golembiewski (RPCV Sierra Leone 1974-1976) in recognition of her tireless efforts to help lift people from poverty to self-reliance through education and economic empowerment. NPCA will present the award during the annual Peace Corps Connect conference, August 23-25, 2018 in Shawnee, Pennsylvania.
Upon hearing the news Arlene expressed, "I felt so honored to hear I've been chosen for the Shriver Humanitarian Award. My Peace Corps service taught me I could make a positive change in the world through public service. This award really belongs to our Sierra Leone community partners. It's their leadership, creative programs and tireless work that have changed the lives of so many. I'm proud to have empowered them."
After retiring from Procter & Gamble as Associate Director of Global Health, Safety and Environment, Arlene returned to Sierra Leone in 2011 and rural Bumpeh Chiefdom where she had been a Peace Corps teacher from 1974 to 1976. Still a poverty-stricken area today, the Chiefdom consists of 208 villages with a population of 40,000. Most live on less than $1 per day from subsistence farming. 70% of its people are illiterate, 70-80% of its teens cannot afford to attend school, there is no electricity or running water and travel on unimproved roads is difficult. On that return trip, Arlene connected with the now Paramount Chief with whom she once taught school. From asking how she could help, a scholarship fund for girls began. In her next two visits, Arlene and Paramount Chief Charles Caulker developed plans for a partnership to add adult literacy classes, computer training and an orchard growing program. By March 2013, Arlene founded Sherbro Foundation Sierra Leone (SFSL), a non-profit NGO whose mission is to help Sierra Leone move from poverty to self-reliance through education and economic empowerment. SFSL follows the Peace Corps model of working with grassroots organizations on community-led development that empowers them to meet needs they identify with resources they have.
Arlene serves as SFSL's volunteer Executive Director and has recruited an all-volunteer staff to support her. SFSL's local partner in Bumpeh Chiefdom is the Center for Community Empowerment & Transformation (CCET-SL). Living in the chiefdom and led by Paramount Chief Charles Caulker, CCET-SL members initiate and manage development programs for the Chiefdom. With SFSL consulting and initial funding, CCET-SL works with chiefdom leaders and local people to introduce programs with strong ownership. This ensures that locals participate, projects are viable and results are quickly produced. Programs have attracted more funding.
In five years, Arlene helped develop CCET-SL's organizational capacity for seven programs, directly improving the lives of over 8,000 people. These programs are already locally recognized as models of community-led development for reapplication by others. The scholarship program has helped more than 600 girls with more than 1250 awards and just gave the first college scholarship. SFSL's website is www.sherbrofoundation.org.
Arlene also serves on the board of Cincinnati's East End Adult Education Center and the board of the Hillside Trust, a local land conservation and advisory group working to preserve the scenic hillsides of Cincinnati and N. Kentucky, many subject to landslides.
About the Sargent Shriver Award for Distinguished Humanitarian Service
Every year, NPCA recognizes Returned Peace Corps Volunteers (RPCV) who champion the purpose and vision of the Peace Corps. Named after the founding director of the Peace Corps, the Sargent Shriver Award for Distinguished Humanitarian Service is NPCA's highest award for RPCVs, awarded to those who make a sustained and distinguished contribution to humanitarian causes at home or abroad or are innovative social entrepreneurs whose actions bring significant long-term change.
Photo: Arlene Golembiewski with a farmer aided in one of SFSL's agricultural self-sufficiency programs and Paramount Chief Charles Caulker.
---