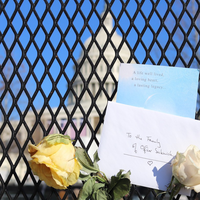 An Unprecedented Year. And Insurrection at the Capitol.
By Glenn Blumhorst
Photo: Makeshift Fence Memorials to Capitol Police Officers Brian D. Sicknick and Howard Liebengood. By Elvert Barnes
For so many of us, the year 2020 seemed the challenge of a lifetime. But if anyone was built to persevere through the crises these months presented, it's Returned Peace Corps Volunteers. Having endured a tumultuous year marked by a global health pandemic, racial disarray and instability, and the first-ever global evacuation of Volunteers, we could use skills we learned and experiences that have shaped us to take on many roles, including working professional, volunteer in communities at home, teacher, caregiver, colleague, and more. And we would turn the page.
Then came January 6 — a horrific day for our country. A violent mob stormed the U.S. Capitol, smashing windows and looting offices. We condemn these acts of violence and chaos in the strongest possible terms. The Peace Corps community is committed to building peace and friendship. When we are sworn in as Volunteers, we take an oath to support and defend the Constitution of the United States against all enemies, foreign and domestic.
Symbolically and literally, democracy itself was under assault. What do we take from this moment? It's profoundly clear that the work of building peace needs to start here at home. And as many in the Peace Corps community have observed, the extremists who took part in the attack were not met with the kind of show of force that has met Black protesters. It underscores once more that we need to address racial justice as a root issue in society.
We must be unequivocal: Violence and hatred have no place in the Peace Corps community.
We stand in solidarity with the public servants who were terrorized by these acts of violence. That includes not just members of Congress but the many staff who work behind the scenes — especially those who are people of color. Dozens of Returned Peace Corps Volunteers serve as congressional staff. Their lives were at risk. Our hearts go out to them. But that is not enough.
We must be unequivocal: Violence and hatred have no place in the Peace Corps community. Those who took part in these violent acts — and those who incited them — must be held accountable.
It is reprehensible that among the mob that stormed the Capitol is one man who served in the Peace Corps, Thomas Baranyi, who began basic training in the Marine Corps before being discharged. A CBS affiliate interviewed him; he gave his name and home state of New Jersey. "We tore through the scaffolding and flash-bangs," he said, and blitzed into the chambers. He described witnessing the death of Ashli Babbitt, shot as she and others tried to breach a barricaded door. He clearly believed actions by the violent extremists were justified.
What We Must Do
I believe that the Peace Corps community can and will play a pivotal role in the United States reengaging with the world. During months of crisis, we've seen many take inspiration from the model of the Peace Corps in looking for solutions to big domestic problems. This moment also underscores once more that, as we undertake the work we do, we must do it with a sense of humility and solidarity — and a sense of what's at stake.
I believe that the Peace Corps community can and will play a pivotal role in the United States reengaging with the world.
I want to give a special thanks to those who have given their support to work for the Peace Corps community in recent months. With your time and commitment, we will ensure that the Peace Corps and the values it is meant to nurture can play an important role in the great unfinished task ahead of us.
When we set out the tasks for the Peace Corps community, Congress, and the Executive Branch in the report "Peace Corps Connect to the Future" — included in this edition of WorldView — we didn't fully fathom the enormity of the rebuilding ahead. But here we are. To the community-driven recommendations outlined in the report, let us add: To best serve our robust intergenerational and diverse community, we need a Peace Corps Director equal to these times: a committed, well-known leader in international development who plans for innovation and transformation of the Peace Corps as we know it. There must be a strong emphasis on diversity, equity, and inclusion in recruitment and retention of Volunteers and staff. We must work with members of Congress to pass legislation to expand Peace Corps funding. And the agency must help lead the way alongside others in peace, diplomacy, and foreign affairs.
This year's challenges have revealed enduring resilience and purpose for moving forward and staying true to our mission. I remain humbled by this awareness, and I am committed to working towards the transformation we have undertaken.
---
Glenn Blumhorst is President & CEO of National Peace Corps Association. He welcomes your comments: president@peacecorpsconnect.org
---