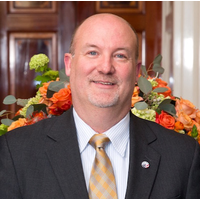 When I think of Peace Corps champions, one name often comes to mind. David Arnold has, as WorldView magazine's editor for 20 of its 32 years in publication, amplified the Peace Corps community's voice worldwide. Each quarter, David has set the theme, curated content, and assembled a preeminent publication by and for the Peace Corps community.
David edited WorldView for 15 years while serving as NPCA communications director, took an eight-year hiatus, then returned in 2015 to hold the fort while we reengineered NPCA as a social impact organization, reformed our business model, and reassessed the role of WorldView as a driver in advancing our mission. David led the magazine through one of NPCA's most significant organizational transitions.
Sadly, all good things must apparently come to an end. With this spring issue of WorldView, David has decided that it's that time of his life to have the time of his life. That means more time for family and friends, traveling, and taking advantage of being fully retired.
It's hard to imagine NPCA and WorldView without David. His understanding of the Peace Corps community is unrivaled. He believes in the Peace Corps as a life-transforming experience. An NPCA colleague once said, "David's commitment to the ideals of Peace Corps is as unwavering as when he and his new bride, Courtney, landed as Volunteers in Ethiopia in 1964." He leaves big shoes to fill and the legacy of a job well done.
As we bid farewell to David, we welcome WorldView's new editor, Steven Saum. Through an extensive nationwide search, NPCA was fortunate to attract—in the words of one of his colleagues—"the best magazine editor in the country." Clearly, he'd never met NPCA's legendary David Arnold, but I digress.
For more than two decades, Steven has edited award-winning magazines in the San Francisco Bay Area, for the last 13 years leading Santa Clara Magazine. He earned national recognition for writing, design, photography, illustration, and overall excellence, including awards for best university magazine in the country and best-designed consumer magazine west of the Mississippi.
Along the way, Steven has written for WorldView and other magazines, served on the board of the Northern California Peace Corps Association, and appeared on panels representing returned Volunteers. His ties to our community began as he joined the third Peace Corps training group to Ukraine in 1994, where he taught at Lesya Ukrainka East European National University in Luts'k. When he returned home, he created a magazine for The Commonwealth Club of California. He envisions WorldView rising to even greater heights, standing on the shoulders of those who came before him. Steven was once a three-time champion on the game show "Jeopardy!" He's now ready for prime time as a champion for the Peace Corps community.
Glenn Blumhorst
NPCA President and Chief Executive Officer
This story was first published in WorldView magazine's Spring 2020 issue
---