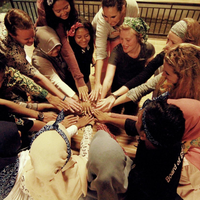 by Terceira Molnar, PCV Indonesia 2014-16, AmeriCorps VISTA 2012-14
One of the most memorable volunteer events I have organized was "Take Your Team to College!" I was working as an AmeriCorps VISTA volunteer for Coaching Corps, a nonprofit that recruited, trained and placed volunteer coaches in low-income areas' after-school sports programs for at-risk youth. The college-student volunteers gave their teams a guided tour of their cafeteria, soccer field, gymnasium, dorms, and most importantly, the registration and financial aid offices. This first-time exposure to the possibility of a higher education for these children felt very special to me, because I was the first child in my family to attend a university. Like these students, I had to seek additional support systems, resources, experiences, and beliefs to even aspire to be where I am. I have learned the importance of human relationships, and that in order to thrive, an individual needs a multi-dimensional supportive environment. This has translated into both a personal and professional journey of finding the strength within to serve others through my AmeriCorps and Peace Corps services.
AmeriCorps began to shape me as a global citizen, because serving in San Diego, California gave me the experience to serve other communities and cultures different from my own. Peace Corps furthered this cultural humility; I served in a village on Java in Indonesia for two years as an English teacher in an Islamic boarding school. Teaching itself was not how I define my Peace Corps experience, but rather my relationships with host families, students, and friends. It was celebrating Idul Adha, the Day of Animal Sacrifice with my host families, even though I was a petrified vegetarian. It was about sitting with one of my students after his dad passed away and sharing how my own father passed away. It was about community. My Peace Corps service did not end when I completed my two years. It followed me back home and it still follows me.
I have had many conversations about my experiences with family members, from a rural city in Wisconsin to my fellow graduate students at New York University in New York City, where I live now, with a Muslim Indonesian woman who houses me and shows the same hospitality that my host families did. I carry that hospitality as my own approach now. I decided to invest in social justice and advocacy for underprivileged communities in our own society by pursuing a Masters in Social Work, because of these unique and diverse experiences in AmeriCorps and Peace Corps.
####
In February the New York Times reported that the Corporation for National and Community Service and AmeriCorps may be among federal programs being considered for elimination in the Administration's budget. We need your help to make sure that doesn't happen. Call your member of Congress and tell them to protect national service funding.
Ask Congress to protect the federal investment in these programs that mean so much to our citizens and our country.
---