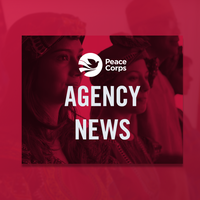 After seeing firsthand the challenges of food insecurity in her village in Rwanda, Markey Culver resolved to help her community find a better solution.
Using her Peace Corps issued cookbook, she constructed a modest Dutch oven and baked a simple bread with locally-sourced ingredients. To improve the nutritional value, she began incorporating fat, protein, and micronutrient-dense ingredients like peanut flour, beets, and carrots.
She started teaching local women to make bread too. When several women began successfully selling bread at the market, Culver knew they were on to something and The Women's Bakery (TWB) was born.
Today TWB is a social enterprise dedicated to teaching women how to make and sell nutritious, affordable breads and manage profitable bakeries in their communities. With ten employees and offices in Denver and Kigali, this innovative project has educated 80 women, launched 6 bakeries in two countries, and directly impacted 372 children.
The Peace Corps caught up with Markey Culver and her co-founder Julie Greene to learn more about this unique endeavor.
1. What inspired you to join the Peace Corps?
Culver: Since high school, I had wanted to join the Peace Corps. I wanted to be able to use what I had been given (which was everything) for good. The Peace Corps was a perfect medium because volunteers serve in the name of goodwill, for the betterment of both volunteer and community member(s).
Greene: I had been interested in travel and culture ever since I was young. I had my first international experience as a 10-year-old in China and I was fascinated by learning about another language and culture. I also grew up surrounded by international graduate students, who were often at our home, and that continued to spark my interest in travel and cross-cultural learning. At some point early in high school I heard about the Peace Corps and I was hooked. After studying abroad my junior year in Tanzania I decided that I wanted to pursue international development work, and the Peace Corps seemed like a perfect way to get started, and a chance to get back to East Africa.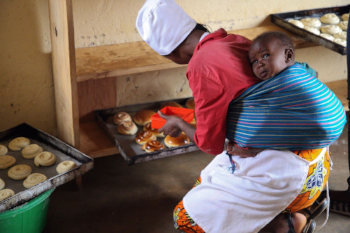 2. What kind of work did you do as a Peace Corps Volunteer in Rwanda?
Culver: My primary assignment was education – a TEFL teacher for secondary school students. I also doubled as a health volunteer, working at my local health center in both the nutrition and maternity wards. Outside of my assignments, I worked with my school to build water tanks, a computer lab, and library. I also worked with my neighbors to plant kitchen gardens. My most fun and special times were simply being with my neighbors and learning about Rwandan culture and life.
Greene: During Peace Corps my primary assignment was in Education. I taught English classes in the public secondary school, and engaged in school development projects like building a library and water tanks. What really motivated and interested me, though, was working with women and girls. At school, I started several girls clubs, including a Girls Leading Our World leadership club and a girls sports club focused on getting more female students involved in sports like football (soccer) and running. Outside of school, I joined up with a community member to start a women's co-op for single mothers. The co-op explored different income generating activities and skills that could provide the women with additional income. We explored business opportunities for weaving, a hair salon, vegetable farming and sales, and goat raising.
3. How did your Peace Corps experience lead to the founding of The Women's Bakery?
Culver: For me, the seeds for what is now TWB started my second year as a PCV when I started teaching a group of women how to bake. My intention was to teach the women a skill that they could use at home to make a nutritious snack for their children. But, after a few months of baking lessons at my house, a few women started selling their bread. And that's when this vision for TWB – a social enterprise that educates and employs women and provides nutritious, affordable breads to communities – took hold.
I began building the predecessor to TWB (The Rwanda Women's Bakery) and laying the foundations for our current company. I then partnered with my best friend in the Peace Corps, Julie Greene, to build on this foundation. We officially launched TWB in 2015 and we've been training women, building bakeries, sourcing local ingredients, and selling nutritious breads ever since.
Greene: These two areas – female confidence and leadership development, as well as income generation – I saw as high needs not only during my Peace Corps service, but also in the United States. I believe they are global needs. I became very committed to developing opportunities for women and girls to ensure that they have the same chance for success and opportunity and choice. After Peace Corps I joined AmeriCorps in the US and worked at a high school for pregnant and parenting teen moms. This strengthened my resolve to find both economic and social solutions for women. When Markey and I began talking about the possibility to expand the bakery she had started in her Peace Corps community, it only made sense.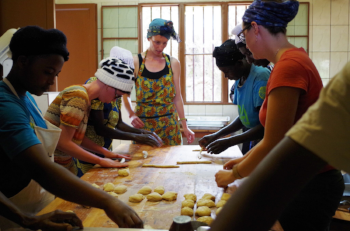 4. What is the mission of The Women's Bakery?
In places where nutrition, education, and jobs are scarce, TWB trains women to start businesses that nourish communities, support families, and spark local economies.
5. Health and nutrition is at the core of your work. How do you incorporate these pillars into The Women's Bakery?
In East Africa, many women lack access to education, incomes, and opportunities.
We believe all women have the right to earn an education, sustainable gainful employment, and opportunities to improve their own lives and their family's lives. We exist to give women access to those opportunities and choices.
In Rwanda, 80% of the population is agrarian, meaning work is farming and often subsistence farming, and much of this agrarian population (76%) lives in poverty. Even in urban areas, 1 in 4 women is unemployed. To address these gaps in economic inclusion for women in Rwanda, TWB readies women, many undereducated and underemployed, for non-farm jobs by equipping them with skills to profitably manage a bakery.
In addition to training and employing women, TWB bakeries specialize in nutritious breads as 40% of children in Rwanda are chronically malnourished. Our most nutritious breads are also our most affordable at $0.11. We specialize in locally sourced, highly nutritious bread products that are affordably priced to grant lower-income families purchasing power.
6. What are some of the challenges that you have faced along the way?
Social business models are very new in Rwanda and thus TWB does not quite "fit" into any of the standard business systems. We spend a large part of our time and resources trying to explain what our model is and why it's beneficial for Rwanda – and for East Africa. Having to navigate the business landscape as a nontraditional company in Rwanda has proven very challenging. Others try to box us into either a straight NGO or straight business, but we are a blend of both. We exist to educate, employ, and empower Rwandans and we are looking for local and national systems to recognize our mission and support us in our endeavors.
7. How do you measure success?
The success of TWB's model is rooted in our insistence that business can – and should –work for social good. We call this conscious capitalism. After three years of operations in Rwanda, we can measure impact at the women-level, bakery-level, and community-level.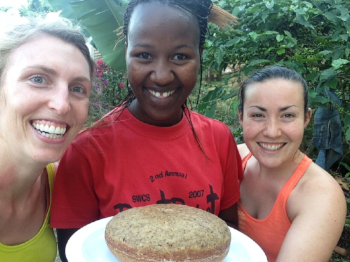 Through TWB, women have skills that can never be taken away, jobs they can rely on, and incomes they can depend on. At the start of training, 43% of women report feeling confident. After 6 months, 83% of these women report feeling confident. At our longest-operating bakery in Kigali, 10 women are now earning $916 annually – that is a 4.5x income increase from their pre-bakery incomes.
We want our bakeries to improve communities' access to affordable, nutritious breads as well as strengthen communities' local economies. We estimate $8,585.11 has been invested into local communities' economies in Q1 2018 via bakeries' purchase of raw materials/supplies.
Our most nutritious breads are our most affordable breads because chronic malnutrition is high in Rwanda, especially for children (40% of rural children under 10). In one community, TWB has partnered with a local school to add bread and porridge for daily snacks at school. Now 196 children are receiving 75g of protein from TWB bread along with porridge that has 4.5g of Vitamin B.
8. What are your goals for the future of The Women's Bakery?
Our vision is big. We want to become the #1 women-powered bakery branch/franchise network in East Africa. And we want to do this through local business creation.
Photo 1: Rwandan woman with child working at The Women's Bakery; Photo 2: Markley Culver in baking training session in Rwanda. Photo 3: Markey Culver and her co-founder Julie Greene
---
Articles and Photos Provided Courtesy of Peace Corps
---