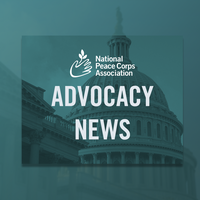 A few weeks ago, the House of Representatives issued a Dear Colleague letter with a record breaking 181 lawmakers calling for increased Peace Corps funding.
Now, your Senators have the chance to take similar action. But time is running out!! We are in the final hours in our effort to secure more signatures.
Senators Johnny Isakson (R-GA) and Dianne Feinstein (D-CA) are circulating this letter to Senate colleagues, encouraging robust funding for the Peace Corps in Fiscal Year 2020, which begins October 1st.
Take Action:
Follow this link to write to your Senators, asking them to sign the letter today! We encourage you to personalize your message in the body of the letter. If your Senator(s) signed the letter, contact them to say thank you!
Help us reach our goal of 40 Senate signatures.
Update:
Update as of 10:00 AM on Wednesday, April 24:
Number of Senators Signing the Letter: 34*
Number of Senators Needed to Reach our Goal: 6
Senators who signed the Isakson-Feinstein Peace Corps Funding Letter
(NOTE: * means the office of the Senator indicates s/he is signing the letter, though not confirmed yet by staff of Senators Feinstein and Isakson. If your Senator(s) are NOT listed below, they have not signed the letter and need to hear from you now!)
ARIZONA
Kyrsten Sinema*
CALIFORNIA
Dianne Feinstein (co-author)
CONNECTICUT
Richard Blumenthal
Chris Murphy
DELAWARE
Chris Coons*
GEORGIA
Johnny Isakson (co-author)
HAWAII
Mazie Hirono
Brian Schatz
ILLINOIS
Tammy Duckworth
MAINE
Susan Collins*
Angus King*
MARYLAND
Ben Cardin
Chris Van Hollen
MASSACHUSETTS
Ed Markey
Eliabeth Warren
MICHIGAN
Gary Peters*
Debbie Stabenow
MINNESOTA
Amy Klobuchar
NEVADA
Jacky Rosen
NEW HAMPSHIRE
Maggie Hassan
Jeanne Shaheen
NEW JERSEY
Cory Booker
Robert Menendez*
NEW MEXICO
Martin Heinrich
NORTH CAROLINA
Thom Tillis
OHIO
Sherrod Brown*
OREGON
Jeff Merkley
Ron Wyden*
RHODE ISLAND
Jack Reed
VERMONT
Bernie Sanders
VIRGINIA
Tim Kaine
WASHINGTON
Maria Cantwell
WEST VIRGINIA
Joe Manchin
WISCONSIN
Tammy Baldwin
---