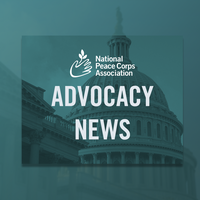 Each spring, the Peace Corps community mobilizes to support letters issued in the U.S. Senate and House of Representatives urging robust funding for the Peace Corps.
Senators Johnny Isakson (R-GA) and Dianne Feinstein (D-CA) circulated a Dear Colleague letter asking for an increase in Peace Corps funding, and the Peace Corps community responded. The Dear Colleague letter, an official correspondence sent by Members of Congress to encourage others to support or oppose a bill, received a record 41 signatures this year. That number surpassed the previous high of 37 signatures, achieved in both 2009 and 2018.
Coupled with a record breaking House Dear Colleague letter and its 181 signatures, a combined 222 lawmakers, representing 41 percent of Congress (also a new record), demonstrated strong support for the Peace Corps. With such a high number of signatures, it is more likely that Congress will include an increase in Peace Corps's budget for the 2020 Fiscal Year.
To read the Senate letter, follow this link.
If you Senator(s) are listed below, follow this link to call or write them to thank them for signing the bi-partisan Isakson-Feinstein Peace Corps funding letter!
Senators who signed the Isakson-Feinstein Peace Corps Funding Letter
ARIZONA
Kyrsten Sinema
CALIFORNIA
Dianne Feinstein (co-author)
COLORADO
Michael Bennet
CONNECTICUT
Richard Blumenthal
Chris Murphy
DELAWARE
Tom Carper
Chris Coons
GEORGIA
Johnny Isakson (co-author)
HAWAII
Mazie Hirono
Brian Schatz
ILLINOIS
Tammy Duckworth
MAINE
Susan Collins
Angus King
MARYLAND
Ben Cardin
Chris Van Hollen
MASSACHUSETTS
Ed Markey
Eliabeth Warren
MICHIGAN
Gary Peters
Debbie Stabenow
MINNESOTA
Amy Klobuchar
Tina Smith
MONTANA
Jon Tester
NEVADA
Catherine Cortez Masto
Jacky Rosen
NEW HAMPSHIRE
Maggie Hassan
Jeanne Shaheen
NEW JERSEY
Cory Booker
Robert Menendez
NEW MEXICO
Martin Heinrich
NEW YORK
Kirsten Gillibrand
NORTH CAROLINA
Thom Tillis
OHIO
Sherrod Brown
OREGON
Jeff Merkley
Ron Wyden
RHODE ISLAND
Jack Reed
VERMONT
Bernie Sanders
VIRGINIA
Tim Kaine
Mark Warner
WASHINGTON
Maria Cantwell
WEST VIRGINIA
Joe Manchin
WISCONSIN
Tammy Baldwin
---