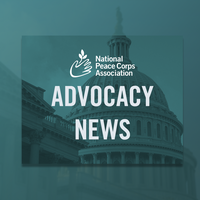 Keep Peace Corps Independent and Internationally Trusted

Join the Peace Corps community in protecting the independent, non-political nature of the Peace Corps by opposing legislation (S.2320) introduced by Senator Rick Scott (R-FL) that would make Peace Corps subordinate to the Department of State under the direction of the Secretary of State.

By safeguarding Peace Corps' status as an independent agency, we can help to ensure that it will not be used to promote short-term goals of the Secretary of State or whichever administration is occupying the White House. The international perception of the Peace Corps' independence is imperative for its continued success, which is based on mutual respect and trust of the host countries.

Contact Your Senators and Urge Them to Oppose S.2320
---