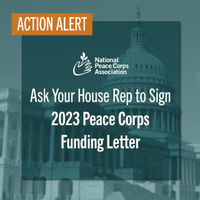 Following President Biden's March 9th announcement that he is requesting $495 million for the Peace Corps in Fiscal Year 2024, Returned Peace Corps Volunteer Congressman John Garamendi (D-CA) issued the annual Peace Corps Funding Dear Colleague letter.
The letter to leaders of the House Appropriations Committee – which urges support for the president's request – secured 136 signatures in less than one week. Four House Republicans (Bacon-NE, Molinaro-NY, Gonzalez-Colon-Puerto Rico, and Radewagen-American Samoa) signed onto this year's letter.
Use this link to read the final letter.
Take Action:
Review the list of signers below.
If your Rep is among those who signed, visit our NPCA Action Center to send a thank you message!
Who signed the letter?
Here are the lawmakers who signed the Garamendi Peace Corps Funding Dear Colleague Letter for Fiscal Year 2024.
DEADLINE to sign on: 5:00 PM Monday, March 20, 2023 (THIS LETTER IS NOW CLOSED)
SIGNATURES as of Tuesday, March 21, 9:00 AM: 136
SIGNATURES needed to reach our goal: 10
Alabama: Sewell
American Samoa: Radewagen
Arizona: Gallego, Grijalva
California: Barragan, Bera, Brownley, Carbajal, Cardenas, Chu, Correa, Costa, DeSaulnier, Eshoo, Garamendi (Author), Huffman, Jacobs, Kamlager-Dove, Khanna, Levin, Lieu, Matsui, Napolitano, Panetta, Peters, Ruiz, Sanchez, Schiff, Swalwell, Takano, Mike Thompson, Vargas
Colorado: Crow, DeGette, Neguse
Connecticut: Courtney, Hayes, Himes, Larson
Delaware: Blunt Rochester
District of Columbia: Norton
Florida: Cherfilus-McCormick, Moskowitz, Soto, Wilson
Georgia: Bishop, Hank Johnson, McBath, David Scott, Williams
Hawai'i: Tokuda
Illinois: Budzinski, Casten, Danny Davis, Foster, Jonathan Jackson, Kelly, Krishnamoorthi
Indiana: Carson
Kansas: Davids
Maine: Golden, Pingree
Maryland: Raskin, Sarbanes
Massachusetts: Auchincloss, Keating, Lynch, McGovern, Moulton, Neal, Pressley, Trahan
Michigan: Dingell, Kildee, Slotkin, Stevens, Tlaib
Minnesota: Craig, Phillips
Missouri: Cleaver
Nebraska: Bacon
Nevada: Horsford, Titus
New Hampshire: Pappas
New Jersey: Andy Kim, Pascrell, Payne, Sherrill
New Mexico: Stansbury
New York: Bowman, Clarke, Higgins, Jones, Molinaro, Tonko, Torres, Velazquez
Northern Marianas: Sablan
North Carolina: Adams, Manning, Nickel
Ohio: Beatty, Shontel Brown
Oregon: Blumenauer, Bonamici, Hoyle, Salinas
Pennsylvania: Boyle, Evans, Houlahan, Wild
Puerto Rico: Gonzalez-Colon
Rhode Island: Cicilline, Magaziner
Tennessee: Cohen
Texas: Allred, Castro, Crockett, Doggett, Escobar, Fletcher, Vicente Gonzalez, Jackson Lee, Veasey
Virginia: Beyer, Connolly, McClellan, Spanberger, Wexton
Virgin Islands: Plaskett
Washington: DelBene, Jayapal, Larsen, Schrier, Strickland
Wisconsin: Moore
---
Jonathan Pearson is Director of Advocacy for National Peace Corps Association. Write him at advocacy@peacecorpsconnect.org
---